Empowerment Financial Guidance, LLC
Co-Founder, Financial Adviser
Empowerment Financial Guidance, LLC
Co-Founder, Financial Adviser
I partner with you to guide you in building the financial confidence to turn your dreams into plans.
- Bill Weihman, CFP®
Fee-only financial planner located in San Jose, CA, serving clients in the Bay area and across the country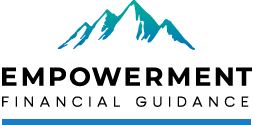 Bill Weihman, CFP® is an enthusiastic adherent and teacher of the demeanor underlying sound investment and financial planning. Some of his favorite words include the following: appreciation (both intrinsic and financial); husband, stepfather, brother, son, uncle; friend; fulfillment; equality; perspective; professionalism; humility; respect; childlike enthusiasm; love; il faut profiter.
And yes: empowerment.
He is still occasionally spirited away at night by dreams of playing professional hockey. By day he is energized to be a financial advisor to wonderful people he is grateful to serve. He and his wife Peggy are very proud to have founded their business to share their gifts of wisdom and experience for the benefit of good people who appreciate help with the management of their wealth.
Bill has worked collaboratively with several distinguished financial planners in the Bay Area before dedicating thirteen years at Retirement Capital Strategies. His previous experience includes eleven years with Nike and numerous childhood summers on a Long Island potato farm. Following the example of his father's career as an investment professional, Bill has been managing investment portfolios since 1987.
Bill grew up near New York City, applying himself energetically to his academics, a considerable variety of sports, and time with his family. His education includes The Hotchkiss School, Harrow School (London), Université de Strasbourg (France), and St. Lawrence University. In 2004 he completed the graduate program in Personal Financial Planning with honors from the University of California Extension.
Peggy & Bill are proud to lean in alongside various charitable organizations, including those supporting girls' education, natural resources, women's health, and most significantly, feeding the hungry.
Peggy & Bill live with their two daughters and two cats in San Jose. When not being entertained by the humor of his five family members, Bill can often be found cycling or discussing the topics of the world with Peggy on long walks.
Bill Weihman is a Member of the National Association of Personal Financial Advisors

The National Association of Personal Financial Advisors (NAPFA) is a leading professional association of Fee-Only financial advisors - highly trained professionals who are committed to working in the best interests of those they serve.
NAPFA members live by three important values:
To be the beacon for independent, objective financial advice for individuals and families.
To be the champion of financial services delivered in the public interest.
To be the standard bearer for the emerging profession of financial planning.
Our team of fee-only financial planners at Empowerment Financial Guidance will act as your guides on the path to financial independence. We assist you in clarifying goals, developing a strategy, investing appropriately, and monitoring progress. We partner with our clients to create a custom-tailored financial fitness program.
Through education, comprehensive financial planning, and alignment of your investments to your personal risk tolerance and goals, we will help you find the path to work toward realizing your life goals.
With a combined 52 years of experience in financial planning and investments, we have made the journey to financial independence with many successful clients.
We'd like to do the same for you!
Fee-Only, Fiduciary, Independent:

Three Important Criteria to Consider When Choosing a Financial Advisor.
Specialties
Comprehensive Financial Planning
Retirement Income Planning
Investment Management
College Education Planning
Tax Planning
Ideal Clients
Retirees and Near Retirees
Growing Families
Business Owners and Executives
Sudden Money Situations
Novice Investors
Working Together
In-Office Meetings
Virtual Meetings
Clearly Defined Fees
No Product Sales
Complimentary Initial Consultation
Professional Designations & Affiliations
Bill Weihman is a NAPFA-Registered Financial Advisor

The National Association of Personal Financial Advisors (NAPFA) is a leading professional association of Fee-Only financial advisors—highly trained professionals who are committed to working in the best interests of those they serve.

Bill Weihman is a CERTIFIED FINANCIAL PLANNER™ Professional - Click for Verification

CFP® professionals are held to strict ethical standards to ensure financial planning recommendations are in your best interest. What's more, a CFP® professional must acquire several years of experience related to delivering financial planning services to clients and pass the comprehensive CFP® Certification Exam before they can use the CFP® designation.

Bill Weihman is a Member of the Alliance of Comprehensive Planners (ACP)

Alliance of Comprehensive Planners (ACP) is the community of tax-focused financial planners that operate under the retainer model. Passionately dedicated to superb client service, ACP planners' only source of income is client retainer fees – not commissions. With an ACP planner, you can be confident you're getting experience, knowledge, research, and most importantly, advice that is tailored just for you.
Office Locations:
4030 Moorpark Ave
Suite 250
San Jose, CA 95117