Maura Griffin
CFP®, MBA, CDFA®
Blue Spark Capital Advisors
President, Financial Advisor
Maura
Griffin
CFP®, MBA, CDFA®
Blue Spark Capital Advisors
President, Financial Advisor
I specialize in working with women going through life transitions: those facing divorce, job change, widowhood, or retirement. We aim to educate and empower, giving our clients peace of mind and a secure financial future.
- Maura Griffin, CFP®, MBA, CDFA®
Fee-Only Financial Planner serving women in New York City and the Berkshires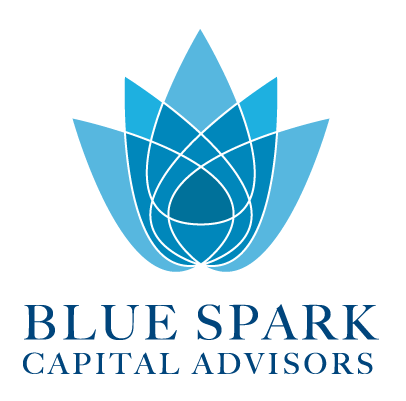 Maura Griffin is a fee-only financial planner. Blue Spark Capital Advisors has three financial advisors providing comprehensive and objective financial planning and investment advice to help clients grow and protect their assets and use their money to life a life they love. Maura Griffin focuses on women in transition, Matt Carey focuses on couples, and Calvin Griffin focuses on those in their 20s - 40s looking to create a roadmap to financial security.
As a fee-only, fiduciary, and independent financial advisor, Maura Griffin is never paid a commission of any kind, and has a legal obligation to provide unbiased and trustworthy financial advice.
Maura Griffin is a proud recipient of the Women's Choice Award for financial advisors for excellent service for 10 years in a row. She has appeared on PBS Television's show "Wealthtrack" with Consuelo Mack and WABC's Living Better With Laura Smith. She has been featured in Forbes magazine and quoted in numerous publications including the Wall Street Journal, Financial Planning magazine, Bloomberg News, and Financial Times IQ.
Maura graduated from Georgetown University with a BA in Literature and earned her MBA from Columbia University.

Maura Griffin is a Member of the National Association of Personal Financial Advisors

The National Association of Personal Financial Advisors (NAPFA) is a leading professional association of Fee-Only financial advisors - highly trained professionals who are committed to working in the best interests of those they serve.
NAPFA members live by three important values:
To be the beacon for independent, objective financial advice for individuals and families.
To be the champion of financial services delivered in the public interest.
To be the standard bearer for the emerging profession of financial planning.
Blue Spark Financial is a boutique wealth mangement and financial planning firm, providing holistic and objective financial advice to women, men and their families. We offer a disciplined approach to your financial life, with objective answers to your questions and solutions to your problems through a diversified investment approach. Our services for individuals and small businesses include advice on: Investment planning; Portfolio design and asset allocations; Retirement funding; Retirement distributions; College funding; Tax planning; Estate planning fundamentals; Lump-sum distributions and sudden money events; Cash-flow planning; Employment benefits; 401(k) allocations and other retirement rollovers
Our Mission: We aim to simplify our clients' financial lives, optimize their investments, and help organize their personal financial planning. We work individually with each client to help develop a cost-efficient plan strategy that is right for them, to grow and protect their wealth.
Fee-Only, Fiduciary, Independent:

Three Important Criteria to Consider When Choosing a Financial Advisor.
Specialties
Retirement Income Planning
Investment Management
Comprehensive Financial Planning
We have a $1 million minimum account size.
Ideal Clients
Our ideal client is a woman facing retirement, is newly divorced, or widowed. We have deep technical expertise and emotional understanding for these difficult transitions.
Sudden Money Situations
Retirees and Near Retirees
Working Together
We take a few new clients each year, via referrals from current clients.
Professional Designations & Affiliations
Office Locations:
31 Hudson Yards
11th Floor
New York, NY 10001

321 Main St.
Suite 205
Great Barrington, MA 01230