Altfest Personal Wealth Management
President
Altfest Personal Wealth Management
President
As a fee-only financial planner, my focus is to offer unbiased financial advice to help you achieve your life goals.
- Andrew Altfest, CFP®, MBA
Fee-Only financial planner located in New York, NY, serving clients locally and across the country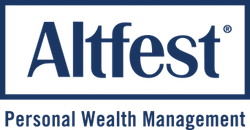 Andrew Altfest is a New York, NY fee-only financial planner. Altfest Personal Wealth Management provides integrated financial planning and investment management to help medical and dental professionals and business owners organize, grow and protect their assets through life's transitions. As a fee-only, fiduciary, and independent financial advisor, Andrew Altfest is never paid a commission of any kind, and has a legal obligation to provide unbiased and trustworthy financial advice.
Andrew Altfest, CFP® advises clients about their personal finances and drives financial planning strategies for team members across the firm. He is also an active member of Altfest's Investment Committee and the Portfolio Action Group, which sets investment strategy for client portfolios.
As a leader of Altfest Personal Wealth Management, Andrew has spearheaded a number of initiatives to expand the firm. These have included organizing different practice groups focused on client segments, launching private equity solutions and directing the firm's Young Professionals group aimed at millennials. He also has encouraged further formalizing investment processes and led the introduction of a new technology process mandate with digital planning, to enhance decision-making, client experience and productivity. Additionally, Andrew leads the firm's efforts in the tax management of investment portfolios, and advises clients on charitable contributions.
Andrew is the founder and CEO of FP Alpha, the first AI-driven comprehensive wealth management solution to cover more than 15 areas of financial planning. The software enables financial advisors to save time in the planning process, showcase their value beyond investments, and deliver the personalized, comprehensive experience that clients require.
Andrew was named a Best-In-State Wealth Advisor in New York City by Forbes in its 2018, 2019 and 2020 ranking, as well as a Young Advisor to Watch by Financial Advisor in 2020. He was included in Forbes' list of America's Top Next-Generation Wealth Advisors in 2017, 2018 and 2019; InvestmentNews' 2018 list of 40 Under 40 in the financial advisory industry; and Financial Advisor's Due Diligence/Research Manager All-Star Team in 2012 and 2013.
Andrew joined the firm in 2003. He received his BA with honors in English from Cornell University, and his MBA from Columbia University's Graduate School of Business. He also is a CFP® licensee.
Andrew has spoken at local universities, industry conferences and the American Association of Individual Investors, and has appeared regularly in the press, including The Wall Street Journal, Bloomberg News and Dow Jones Newswires.
Andrew is a member of the National Association of Personal Financial Advisors (NAPFA), and as chair of the New York City chapter, he has strengthened its membership. He's on the board of the Lower East Side Jewish Conservancy, mentors young financial advisors and New York University's CFP® students, and serves on the Junior Advisory Board of the New York Common Pantry. In his free time, Andrew enjoys running, biking, trying new restaurants, traveling and learning about different cultures.
Andrew Altfest is a Member of the National Association of Personal Financial Advisors

The National Association of Personal Financial Advisors (NAPFA) is a leading professional association of Fee-Only financial advisors - highly trained professionals who are committed to working in the best interests of those they serve.
NAPFA members live by three important values:
To be the beacon for independent, objective financial advice for individuals and families.
To be the champion of financial services delivered in the public interest.
To be the standard bearer for the emerging profession of financial planning.
Other firms may put their profits first — Altfest puts you first.
Only by placing you at the core of everything we do can we truly meet your needs. And we do this by learning about you and your family and providing fully objective advice, deep experience and strong fundamentals in fee-only custom financial planning and investment management. From its founding, Altfest has been a pioneer in fee-only services that replace commissions with putting the client's best interest first.
Investment Management
Investment decisions at Altfest are made for each client using a comprehensive, personal, and truly objective approach.
We take a value-oriented view, strive to reduce risk and use independent ideas to seek portfolio growth. The award-winning investment committee, led by founder Lew Altfest, shapes and manages your assets in several distinctive ways. Here's how we tailor your account to meet your specific needs.
Fee-Only, Fiduciary, Independent:

Three Important Criteria to Consider When Choosing a Financial Advisor.
Specialties
Comprehensive Financial Planning
Retirement Income Planning
Investment Management
College Education Planning
Tax Planning
Ideal Clients
Retirees and Near Retirees
Growing Families
Business Owners and Executives
Sudden Money Situations
Novice Investors
Working Together
In-Office Meetings
Virtual Meetings
Clearly Defined Fees
No Product Sales
Complimentary Initial Consultation
Professional Designations & Affiliations
Andrew Altfest is a NAPFA-Registered Financial Advisor

The National Association of Personal Financial Advisors (NAPFA) is a leading professional association of Fee-Only financial advisors—highly trained professionals who are committed to working in the best interests of those they serve.

Andrew Altfest is a CERTIFIED FINANCIAL PLANNER™ Professional - Click for Verification

CFP® professionals are held to strict ethical standards to ensure financial planning recommendations are in your best interest. What's more, a CFP® professional must acquire several years of experience related to delivering financial planning services to clients and pass the comprehensive CFP® Certification Exam before they can use the CFP® designation.

Andrew Altfest is a Member of the XY Planning Network

The XY Planning Network is the leading organization of fee-only financial advisors who are focused on working with Generation X and Generation Y clients. Our mission is to connect consumers with best-in-class financial advisors who specialize in working with clients just like you.
Office Locations:
445 Park Ave
Floor 6
New York, NY 10022