Clark Kendall
CFP®, CFA®, AEP®
Kendall Capital
President and CEO
Clark
Kendall
CFP®, CFA®, AEP®
Kendall Capital
President and CEO
As a fee-only financial planner, my focus is to offer unbiased financial advice to help you achieve your life goals.
- Clark Kendall, CFP®, CFA®, AEP®
Fee-Only Financial Advisor located in Rockville, MD and serving Middle-Class Millionaires in the Washington, D.C. Area.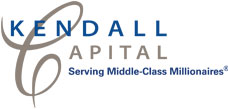 Clark Kendall has more than 30 years of investment management and wealth management experience. He has a distinguished combination of academic knowledge obtained from the Chartered Financial Analyst® (CFA), Accredited Estate Planner® (AEP®) and CERTIFIED FINANCIAL PLANNER™ (CFP®) programs.
> Clark Kendall is the Author of Middle-Class Millionaire <
Clark is a former equity seat holder on the New York Stock Exchange (NYSE) and a member of the Washington Society of Chartered Financial Analysts®. Prior to founding Kendall Capital in 2005, Clark was the chief investment officer at Potomac Asset Management (1999-2004). Before joining Potomac Asset Management, Clark served as vice president, Investment Committee member and portfolio manager for Pell Rudman Trust Company, an international investment firm. Clark also served as a global private banker at the Royal Bank of Canada. From 1990 to 1996, Clark was the first investment officer at Sandy Spring Bank, where he was responsible for all investment functions of the Trust Department, while serving as a senior investment officer and a Bank Investment Committee member.
Clark is a graduate from James Madison University and holds a BBA in Finance and Economics. He resides in Sandy Spring, Maryland with his wife Diane.
Clark Kendall is a Member of the National Association of Personal Financial Advisors

The National Association of Personal Financial Advisors (NAPFA) is a leading professional association of Fee-Only financial advisors - highly trained professionals who are committed to working in the best interests of those they serve.
NAPFA members live by three important values:
To be the beacon for independent, objective financial advice for individuals and families.
To be the champion of financial services delivered in the public interest.
To be the standard bearer for the emerging profession of financial planning.
Kendall Capital is a wealth management firm providing fiduciary financial planning and investment management advice to Middle Class Millionaires with assets of more than $500,000 in the Washington D.C. Metropolitan area. Middle Class Millionaires are more common than you may realize. While you may not consider yourself a millionaire, you may have accumulated over $500,000 or more in investable assets through disciplined saving and investing, a timely inheritance or a combination of all three.
When you are a client with Kendall Capital, you have access to some of the brightest minds and best people in the business. We are different in that we are a fee-only, fiduciary financial advisor firm. You pay for our expert advice and counsel and in turn we do not receive commissions from anyone for recommending specific investments. We sit on the same side of the table with you in order to serve your best interests.
Our financial advising team prides itself on having a high level of trust in every aspect of our business. Kendall Capital recognizes that each client is unique and requires customized investment management services. We develop individual investment strategies to combine wealth and fundamental investment management. Kendall Capital offers equity, fixed income, and mutual fund management integrated with wealth management strategies to meet the specific financial needs of its clients.
Fee-Only, Fiduciary, Independent:

Three Important Criteria to Consider When Choosing a Financial Advisor.
Specialties
Comprehensive Financial Planning
Retirement Income Planning
Investment Management
College Education Planning
Tax Planning
Ideal Clients
Retirees and Near Retirees
Growing Families
Business Owners and Executives
Sudden Money Situations
Working Together
In-Office Meetings
Virtual Meetings
Clearly Defined Fees
No Product Sales
Complimentary Initial Consultation
Professional Designations & Affiliations
Clark Kendall is a NAPFA-Registered Financial Advisor

The National Association of Personal Financial Advisors (NAPFA) is a leading professional association of Fee-Only financial advisors—highly trained professionals who are committed to working in the best interests of those they serve.

Clark Kendall is a CERTIFIED FINANCIAL PLANNER™ Professional - Click for Verification

CFP® professionals are held to strict ethical standards to ensure financial planning recommendations are in your best interest. What's more, a CFP® professional must acquire several years of experience related to delivering financial planning services to clients and pass the comprehensive CFP® Certification Exam before they can use the CFP® designation.

Clark Kendall is a CFA® charterholder

The CFA Program is the most respected and recognized investment management designation in the world with less than 200,000 charterholders globally.

This advisor has earned the Chartered Financial Analyst® designation (CFA® charter) by passing all three of the CFA exams and gaining relevant industry experience, demonstrating their mastery of the investment analysis and decision-making skills most needed in the global investment management profession.

Clark Kendall is an Accredited Estate Planner® (AEP®)

Professional estate planners can obtain an accreditation that acknowledges their experience and specialization in estate planning. Awarded by the National Association of Estate Planners & Councils to recognized estate planning professionals who meet special requirements of education, experience, knowledge, professional reputation, and character.
Office Locations:
600 Jefferson Plaza
Suite 410
Rockville, MD 20852