MAGISTER WEALTH
Financial Advisor, Consultant, Owner
MAGISTER WEALTH
Financial Advisor, Consultant, Owner
Magister is a unique financial advisory firm. We educate and empower our clients to make prudent decisions about their personal wealth and business finances. Welcome to Financial Mentorship.
- David Nash, CFA®, CFP®
Fee-Only financial planner located in San Antonio, TX, serving clients locally and across the country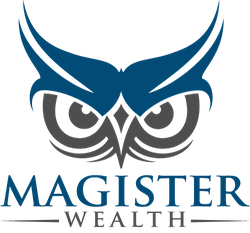 David Nash is a San Antonio, TX fee-only financial planner. Magister Wealth's philosophy is based on a comprehensive financial planning process that coordinates all of your investments, income and retirement needs with your personal property, tax and estate planning, family needs, and personal considerations. Everything in your financial life is connected. As a fiduciary and independent financial advisor, David Nash cannot earn a commission of any kind. Magister Wealth includes financial planning as part of asset management fees. Hourly and project work is also available. David enjoys visiting with clients in their home or office, via video or telephone.
David Nash is the founder of Magister Wealth and the visionary behind the firm's unique approach to delivering holistic, integrated financial planning solutions. He is described by those who know him as a "fixer", "life coach" and mentor who asks the hard questions many other advisors are afraid to ask. An avid student of the markets with a passion for economics, philosophy and psychology, David is a natural problem solver and accomplished teacher. He applies his keen analytical skills in an effort to deliver a truly comprehensive approach to solving his client's most pressing financial challenges.
David's financial advisory experience includes both client-facing and back office positions at award-winning independent advisory firms across the country. For Covenant Multifamily Offices, the leading San Antonio-based wealth management firm with $1.3 billion in client assets (as of May 2013), David served as an Advisory Strategist where he was responsible for developing and executing financial planning and investment research projects. Prior to joining Covenant, David was an Associate Portfolio Manager and Financial Planner for 1st Portfolio Wealth Advisors, a wealth management firm serving clients in the greater metropolitan Washington, DC area. At 1st Portfolio, David helped to monitor and trade over $100 million in client accounts, conducted investment research and developed comprehensive financial plans. He also managed and trained staff in the firm's client service and data management best practices.
David graduated with a Bachelor of Science from George Mason University and completed his Certificate in Financial Planning from Boston University's Institute of Finance. He is a CFA® charterholder and a CERTIFIED FINANCIAL PLANNER™ professional. David served as the 2017 Chairman and 2016 President of the Financial Planning Association (FPA) chapter of San Antonio and South Texas.
For over 20 years, David pursued his passion for music as an instrumentalist, conductor and educator. As a professional trombone player, he was a semi-finalist in major orchestra auditions. David's students received scholarships to some of the best conservatories in the world including Juilliard and the New England Conservatories.
David enjoys bike riding and swimming. He resides in San Antonio with his wife Ellyn and daughters Sylvia and Emily.
David Nash is a Member of the National Association of Personal Financial Advisors

The National Association of Personal Financial Advisors (NAPFA) is a leading professional association of Fee-Only financial advisors - highly trained professionals who are committed to working in the best interests of those they serve.
NAPFA members live by three important values:
To be the beacon for independent, objective financial advice for individuals and families.
To be the champion of financial services delivered in the public interest.
To be the standard bearer for the emerging profession of financial planning.
We help you become more financially savvy.
Magister is a boutique financial consulting firm for individuals who desire greater understanding about their finances in order to make better decisions. Through a highly personalized, education-oriented approach, we help our clients comprehend and master the behavioral and psychological issues affecting their financial decision-making. What sets us apart from other firms is our belief in empowering our clients to become better stewards of their own wealth. Like a good teacher or coach, we patiently explain and demystify our recommendations and solutions in order to increase our clients' financial IQ.
Fee-Only, Fiduciary, Independent:

Three Important Criteria to Consider When Choosing a Financial Advisor.
Specialties
Comprehensive Financial Planning
Retirement Income Planning
Investment Management
College Education Planning
Tax Planning
Small Business Consulting
Ideal Clients
Retirees and Near Retirees
Growing Families
Business Owners and Executives
Sudden Money Situations
Novice Investors
Education Seekers
Working Together
In-Office Meetings
Virtual Meetings
Clearly Defined Fees
No Product Sales
Complimentary Initial Consultation
Professional Designations & Affiliations
David Nash is a NAPFA-Registered Financial Advisor

The National Association of Personal Financial Advisors (NAPFA) is a leading professional association of Fee-Only financial advisors—highly trained professionals who are committed to working in the best interests of those they serve.

David Nash is a CERTIFIED FINANCIAL PLANNER™ Professional - Click for Verification

CFP® professionals are held to strict ethical standards to ensure financial planning recommendations are in your best interest. What's more, a CFP® professional must acquire several years of experience related to delivering financial planning services to clients and pass the comprehensive CFP® Certification Exam before they can use the CFP® designation.

David Nash is a CFA® charterholder

The CFA Program is the most respected and recognized investment management designation in the world with less than 200,000 charterholders globally.

This advisor has earned the Chartered Financial Analyst® designation (CFA® charter) by passing all three of the CFA exams and gaining relevant industry experience, demonstrating their mastery of the investment analysis and decision-making skills most needed in the global investment management profession.
Office Locations:
64 Spring Lake Dr
San Antonio, TX 78248