David Flores Wilson
CFP®, CFA, CDFA®, CCFC
Watts Capital Partners
Senior Wealth Advisor
David Flores
Wilson
CFP®, CFA, CDFA®, CCFC
Watts Capital Partners
Senior Wealth Advisor
I believe you deserve a true financial advocate offering you unbiased advice to help you make progress in achieving your financial and life goals.
- David Flores Wilson, CFP®, CFA, CDFA®, CCFC
Fee-Only financial planner and Wealth Manager located in New York City, serving clients locally and across the country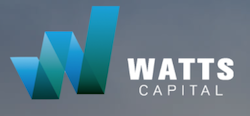 David Wilson is a New York City-based fee-only financial planner. Watts Capital Partners provides comprehensive and objective financial planning to help clients organize, grow and protect their assets through life's transitions. As a fee-only, fiduciary, and independent financial advisor, David Wilson is never paid a commission of any kind, and has a legal obligation to provide unbiased and trustworthy financial advice.
Planning to Wealth is a content resource that provides not only financial planning tips and wealth management guidance for business owners and entrepreneurs, but even lifestyle content like travel hacks for your next vacation.
David Flores Wilson, CFP®, CFA, CDFA® has a passion for being a helpful resource to friends, colleagues, and clients to achieve their financial dreams and goals. A Senior Wealth Manager at Watts Capital in New York City, David advises and coaches business owners and professionals on a broad spectrum of financial matters. Prior to joining Watts Capital Partners, David was a Vice President in the Fixed Income Division at Barclays Capital. He received a BS from the University of California, Berkeley and holds the Certified College Financial Consultant (CCFC), Certified Divorce Financial Analyst (CDFA®), Chartered Financial Analyst (CFA), Behavioral Financial Advisor™ and Certified Financial Planner (CFP®) designations. David received the IMCA Alternative Investments Certificate and completed the Certified Investment Management Analyst (CIMA) certificate program from The Wharton School at the University of Pennsylvania.
David enjoys traveling, reading, Brazilian Jiu-jitsu, yoga and snowboarding. He can be reached at (917) 843-4366 and dwilson@planningtowealth.com
David Flores Wilson is a Member of the National Association of Personal Financial Advisors

The National Association of Personal Financial Advisors (NAPFA) is a leading professional association of Fee-Only financial advisors - highly trained professionals who are committed to working in the best interests of those they serve.
NAPFA members live by three important values:
To be the beacon for independent, objective financial advice for individuals and families.
To be the champion of financial services delivered in the public interest.
To be the standard bearer for the emerging profession of financial planning
Our passion at Watts Capital is protecting and growing the wealth of private families. Our clients rely on us as fiduciaries to deliver world-class financial planning and implementation, investment management and tax planning.
FINANCIAL PLANNING
Our clients rely on our team of Certified Financial Planners™ to evaluate their individual financial situations, formulate a plan, and then implement the plan across seven major areas of their financial lives. Our team brings specialized expertise in serving business owners and individuals contemplating or going through divorce.
INVESTMENT MANAGEMENT
Our clients have a wide range of goals, values and constraints in how they wish us to manage their investments. We tailor each client's investment policy to serve their specific needs. In addition to stewardship of our clients' core stock and bond portfolios, we differentiate ourselves through our experience in complex alternative investments, including real estate, hedge funds, direct investments and private equity. Our investment strategies are led by a team of CFA® and CAIA professionals.
TAX PLANNING
During our clients' lives, income tax is often their single biggest expense. Income tax and estate tax is often our clients' largest obstacle to passing their wealth to family members and funding other elements of their legacy. We work with our clients to structure their financial affairs in a way that reduces taxes, leaving more money for them to achieve what is important to them.
Fee-Only, Fiduciary, Independent:

Three Important Criteria to Consider When Choosing a Financial Advisor.
Specialties
Comprehensive Financial Planning
Retirement Income Planning
Business Owner Planning
College Education Planning
Divorce Financial Planning
Ideal Clients
Business owners and Entrepreneurs
Founders and Executives
Sudden Money Situations
Novice Investors
Growing Families
Working Together
In-Office Meetings
Virtual Meetings
Clearly Defined Fees
No Product Sales
Complimentary Initial Consultation
Professional Designations & Affiliations
Contact

David Flores Wilson
Office Locations:
110 Third Avenue
5A
New York, NY 10003