Want to know how to best structure your retirement and not get killed in taxes? We can help!
- David Zaegel, CPA, CFP®
Retirement Planning and Tax Expert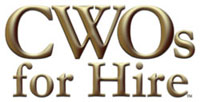 CWOs for Hire focuses on planning for retirees or those within 5 years of retirement. We can help you plan for retirement and make sure you don't get killed in taxes. We'll also help you get the most out of retirement by properly structuring investments to make sure that you have income for the near-term, and growth over the long-term. That way, you don't have to stress about the short-term ups and downs of the stock market. You'll know where your income is coming from for the next 5+ years, and that the remainder of your investments can grow over the long-term.
Born and raised in Saint Louis, Dave Zaegel, CPA, CFP graduated from Saint Louis University with a Masters in Accounting. He spent the first 15 years of his career in various advanced accounting functions.
Since that time, Dave has followed his passion and greater purpose of helping people with their financial planning. His business background and knowledge of taxes, cash flow, and investments makes him a perfect fit for retirement planning.
Outside of working, Dave spends time with his wife and three children. Dave enjoys sports (especially baseball), exercising and playing music. Dave also enjoys volunteering in his community through the Town and Country / Frontenac Chamber of Commerce, and through activities at St. Joseph - Manchester, MO parish.
David Zaegel is a Member of the National Association of Personal Financial Advisors

The National Association of Personal Financial Advisors (NAPFA) is a leading professional association of Fee-Only financial advisors - highly trained professionals who are committed to working in the best interests of those they serve.
NAPFA members live by three important values:
To be the beacon for independent, objective financial advice for individuals and families.
To be the champion of financial services delivered in the public interest.
To be the standard bearer for the emerging profession of financial planning.
We love helping retirees with their planning and investment management. We also focus extensively on tax planning, since for most people it is one of their biggest expenses during retirement. We can help you get the most out of your money by optimally structuring retirement assets. No product or insurance sales needed. We structure the investments to provide at least 5 years of income, so you don't have to worry about short-term fluctuations in the stock market. Then, we can focus on the remaining investments growing for the long-term.
We break everything down into easy to understand presentations. No need to look through 100 pages of planning reports. We do that as the planners, but then we filter that down into 1-2 page summaries for you...in plain English. This allows us to take action and plan well for your retirement.
Fee-Only, Fiduciary, Independent:

Three Important Criteria to Consider When Choosing a Financial Advisor.
Specialties
Retirement Income Planning
Tax Planning
Investment Management
Ideal Clients
Retirees and Near Retirees
Sudden Money Situations
Working Together
Clearly Defined Fees & No Product Sales
In-Office or Virtual Meetings
Complimentary Initial Consultation
Professional Designations & Affiliations
Office Locations:
13492 Clayton Road
Town & Country, MO 63131