It all starts with a plan. What do you want out of life? We'll help determine how you get there?.
- David Zaegel, CPA, CFP®
Fee-Only Financial Planner serving the greater St. Louis, MO area.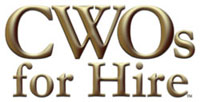 David Zaegel is a Town & Country, MO fee-only financial planner. CWOs for Hire provides comprehensive and objective financial planning, tax planning, and investment management to help retirees, business owners, and corporate executives organize, grow and protect their assets through life's transitions. As a fee-only, fiduciary, and independent financial advisor, David Zaegel is never paid a commission of any kind, and has a legal obligation to provide unbiased and trustworthy financial advice.
Born and raised in Saint Louis, Dave Zaegel graduated from Saint Louis University with a Masters in Accounting. He spent the first 15 years of his career in various advanced accounting functions.
Since that time, Dave has followed his passion and greater purpose of helping people with their financial planning. His business background and knowledge of taxes, cash flow, and investments makes him a perfect fit for working with business owners.
Outside of working, Dave spends time with his wife and three children. Dave enjoys sports (especially baseball), exercising and playing music. Dave also enjoys volunteering in his community through the Town and Country / Frontenac Chamber of Commerce, and through activities at St. Joseph - Manchester, MO parish.
David Zaegel is a Member of the National Association of Personal Financial Advisors

The National Association of Personal Financial Advisors (NAPFA) is a leading professional association of Fee-Only financial advisors - highly trained professionals who are committed to working in the best interests of those they serve.
NAPFA members live by three important values:
To be the beacon for independent, objective financial advice for individuals and families.
To be the champion of financial services delivered in the public interest.
To be the standard bearer for the emerging profession of financial planning.
Our Mission
Our mission is simple: to provide you a better life by giving you greater control of your finances. Life happens and plans will always change. We help you navigate through the ups and downs of life.
Rarely does a successful company operate without a plan. Yet, so many small businesses owners try to function without one. We provide you with the tools, knowledge and expertise you need to plan properly.
All services below are included in our affordable monthly cost.
Connect the "WHY"
Why do you do what you do? We can give you all the brilliant financial advice in the world, but it won't have nearly as much impact if we don't connect it back to your "why"?
Be Efficient
Because you are busy, we develop your plan in smaller increments to be more efficient with your time, and focus on shorter, more frequent ongoing contacts thereafter. We use join.me to connect with you virtually so you don't have to drive to our office all the time, and eMoney to aggregate all of your financial information in one place and provide us with a single tool to collaborate.
Budgeting & Cash Flow Planning
Helping with your cash flow and habits is likely the most important aspect of financial planning. Without this, your overall financial plan will suffer.
Investment Management
We have a passion for investment management, and prefer to utilize individual stocks, bonds and options where we can. We then complete portfolios with low-cost ETFs and index funds for proper allocation and diversification.
Tax Planning & Tax Return Preparation
Our backgrounds in accounting are perfect for helping you manage your taxes. Tax planning does not happen once per year. It requires an ongoing process and discussion for best results. We then prepare your tax return through one of our outside partners if you don't already utilize a CPA.
College Planning
Have children in or near high school? Planning for college can be a stressful and emotional process. We can show you how to save tens of thousands of dollars on the cost of college.
Workplace Benefits
Workplace benefits are a crucial piece of any financial plan. The benefits you set-up within your company can be substantial and should be properly utilized. We help optimize the benefits you provide to your employees, and to yourself.
Insurance Planning
Without proper insurance projection, all your financial plans could be quickly ruined. We look at all aspects of insurance planning, including life, health, disability and property insurance, to make sure you are not overly vulnerable to large risks.
Debt Management
What to do with that debt? Debt can be a big stress if you don't have a plan for it. We'll help put your debt in the context of your overall plan and provide a strategy to properly manage it..
Fee-Only, Fiduciary, Independent:

Three Important Criteria to Consider When Choosing a Financial Advisor.
Specialties
Comprehensive Financial Planning
Investment Management
Tax Planning
Retirement Income Planning
College Education Planning
Ideal Clients
Business Owners and Executives
Retirees and Near Retirees
Sudden Money Situations
Growing Families
Novice Investors
Working Together
In-Office Meetings
Virtual Meetings
Clearly Defined Fees
No Product Sales
Complimentary Initial Consultation
Professional Designations & Affiliations
Office Locations:
13492 Clayton Road
Town & Country, MO 63131