Eagle Grove Advisors LLC
Financial Advisor
Eagle Grove Advisors LLC
Financial Advisor
As a fee-only financial planner, my focus is to offer unbiased financial advice to help you achieve your life goals.
- Eric Gabor, CFP®
Fee-Only Financial Planner with offices in Manhattan, NY and Jersey City, NJ, serving the entire area and clients across the country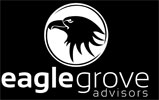 Eric Gabor is a
Jersey City, NJ fee-only financial planner
. Eagle Grove Advisors LLC provides comprehensive and objective financial planning to help clients organize, grow and protect their assets through life's transitions. As a fee-only, fiduciary, and independent financial advisor, Eric Gabor is never paid a commission of any kind, and has a legal obligation to provide unbiased and trustworthy financial advice.
Why I Started Eagle Grove Advisors
As my friends and peers progressed in their careers, they started coming to me for financial advice and some were looking to hire me as their financial planner. At my previous jobs, the focus was on assets under management and our fees were based on a percentage of money invested with the firm. This prevented many of my peers from working with me because they were just starting to save and did not meet my firm's minimum account balance.
I left my last role serving New York City's ultra-affluent community because I believe that individuals shouldn't need a seven-figure portfolio to have access to a fee-only Certified Financial Planner™. My goal is to help guide my clients through both the exciting and the difficult times while reducing stress to allow them to focus on what they enjoy most in their lives.
---
My Professional Story
I graduated from Penn State with a finance degree during the worst economic landscape since the Great Depression (what a time to look for a job!). However, that did not stop me from pursuing a career path where I could use my analytical and interpersonal skills to help others achieve their goals. My persistence paid off as I landed my first gig as an analyst at Goldman Sachs' Ayco Company, a firm specializing in financial planning for Fortune 500 executives. This role opened my eyes to what financial planning was and how a well thought out plan can leave a lasting impact in clients' lives.
My next stop was at Convergent Wealth Advisors where I helped manage all aspects of the client relationships. During my time there, I enrolled in NYU's financial planning program to pursue the CFP® designation. The seven-course program provided me with in-depth knowledge of financial planning, insurance planning and risk management, investment planning, income tax planning, retirement planning, and estate planning.
My most recent role was as a senior advisor at AJ Wealth. I joined AJ Wealth during the company's early stages and was actively involved in crafting the firm's investment philosophy, employee training, compliance, and marketing efforts. During spring 2013, I sat and passed the CFP® examination which makes me one of less than 3,000 advisors under the age of 30 to hold the profession's most recognized designation.
All of this experience, along with my desire to serve my peer group, has culminated in the launch of Eagle Grove. I created an independent firm from scratch in order to reduce as many conflicts of interest as possible so I can align myself with you and together we will work on achieving your life's dreams.
Eric Gabor is a Member of the National Association of Personal Financial Advisors

The National Association of Personal Financial Advisors (NAPFA) is a leading professional association of Fee-Only financial advisors - highly trained professionals who are committed to working in the best interests of those they serve.
NAPFA members live by three important values:
To be the beacon for independent, objective financial advice for individuals and families.
To be the champion of financial services delivered in the public interest.
To be the standard bearer for the emerging profession of financial planning
INVESTMENT MANAGEMENT
You worked hard to earn your money and I will customize an investment plan that incorporates your goals, risk appetite, and time horizons. Every dollar invested should have purpose; it is our job to identify it. The core principals behind Eagle Grove's investment management are:
Diversification
Disciplined approach
Transparency
Tax-efficiency
Low portfolio expenses
Rebalancing
COMPREHENSIVE PLANNING RELATIONSHIP
Need a teammate to help define and reach your goals? This is an ongoing relationship similar to your gym membership but instead of physical fitness, its financial fitness. I am here to offer unlimited email support and meet with you a few times throughout the year to make sure you are on track to meet your goals. This plan also includes:
Access to our technology platform
Check-ins to keep you on track and hold you accountable
Introductions to trusted professionals that help you execute your plan

ONE-TIME ENGAGEMENT
Not ready to work with me on an ongoing basis? Have only 1 or 2 questions you want to discuss? A quick start one-time engagement might suit you. Here are some questions that might be on your mind that I can help work through:
Am I paying too much in taxes?
Should I buy or rent?
How much house can I afford?
Do I have enough life insurance?
Do I need a will?
How do I allocate my 401k?
How do I consolidate my credit card debt?
Fee-Only, Fiduciary, Independent:

Three Important Criteria to Consider When Choosing a Financial Advisor.
Specialties
Comprehensive Financial Planning
Retirement Income Planning
Investment Management
College Education Planning
Tax Planning
Ideal Clients
Retirees and Near Retirees
Growing Families
Business Owners and Executives
Sudden Money Situations
Novice Investors
Working Together
In-Office Meetings
Virtual Meetings
Clearly Defined Fees
No Product Sales
Complimentary Initial Consultation
Professional Designations & Affiliations
Eric Gabor is a NAPFA-Registered Financial Advisor

The National Association of Personal Financial Advisors (NAPFA) is a leading professional association of Fee-Only financial advisors—highly trained professionals who are committed to working in the best interests of those they serve.

Eric Gabor is a CERTIFIED FINANCIAL PLANNER™ Professional - Click for Verification

CFP® professionals are held to strict ethical standards to ensure financial planning recommendations are in your best interest. What's more, a CFP® professional must acquire several years of experience related to delivering financial planning services to clients and pass the comprehensive CFP® Certification Exam before they can use the CFP® designation.

Eric Gabor is a Member of the XY Planning Network

The XY Planning Network is the leading organization of fee-only financial advisors who are focused on working with Generation X and Generation Y clients. Our mission is to connect consumers with best-in-class financial advisors who specialize in working with clients just like you.
Office Locations:
201 Montgomery Street
Floor 2
Jersey City, NJ 07302

119 West 24th St
4th Floor
New York, NY 10011