Gary Cook Financial Planning
Financial Advisor
Gary Cook Financial Planning
Financial Advisor
As a fee-only financial planner, my focus is to offer unbiased financial advice to help you achieve your life goals.
- Gary Cook, CFP®
Fee-Only financial planner located in Santa Barbara, CA, serving clients locally and across the country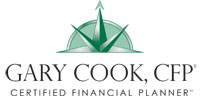 Gary Cook is a
Santa Barbara, CA fee-only financial planner
. Gary Cook Financial Planning provides comprehensive and objective financial planning to help clients organize, grow and protect their assets through life's transitions. As a fee-only, fiduciary, and independent financial advisor, Gary Cook is never paid a commission of any kind, and has a legal obligation to provide unbiased and trustworthy financial advice.
Certified Financial Planner® (CFP®) • Registered Investment Advisor (RIA) • Independent Fee-Only Financial Planner
EXPERIENCE AND EDUCATION:
Gary is a Certified Financial Planner®, or CFP®. This rigorous credential is an assurance that you will receive sound advice provided by a professional with the education, experience and ethics to help you meet your goals.
Additionally, Gary is a Registered Investment Advisor (RIA), which means he has passed the Series 65 exam and is registered with California's Department of Business Oversight to provide advice about securities such as stocks, bonds, mutual funds, and exchange traded funds.
Gary completed the Professional Financial Planning Certification Program through UCSB, a comprehensive graduate-level education in all aspects of a healthy financial life. A graduate of Arizona State University with a B.S. in Mechanical Engineering, Gary has over 30 years of experience in technical, financial and management planning acquired through his tenure at ATK Space Systems, General Electric and the Boeing Company. Many years of Project Management experience honed the same skills needed for adept Financial Planning: thorough research, in-depth analysis, effective synthesis, creative problem solving and exceptional client communication. In addition, he owned a successful franchise operation with three locations on the Central Coast.
Gary has been mentored by Phil McKenna, CFP®, who has been serving clients through his own Financial Planning practice in Santa Barbara for more than 30 years.
He holds membership in NAPFA, the leading professional organization of Fee-Only Financial Advisors – highly trained professionals who are committed to working in the best interest of those they serve. Also, Gary is a member of the Garrett Planning Network, an association of hourly-based, Fee-Only Financial Planners who share a mission to make competent, objective advice accessible to all people.
Gary has been active in the Santa Barbara community by volunteering his time to support Habitat for Humanity and the Santa Barbara Bicycle Coalition. His passion for travel has led him to explore 40 countries. He loves spending time with Holly, his wife of 38 years, and his two adult children, who have grown to appreciate his sound financial advice.
The Fiduciary Standard is something that Gary is wholeheartedly committed to upholding, which means he has promised to work solely in your best interest at all times. While legally and ethically required to do so as a CFP® and an RIA, Gary is primarily motivated by his personal values – it's simply the right thing to do.
Gary Cook is a Member of the National Association of Personal Financial Advisors
The National Association of Personal Financial Advisors (NAPFA) is the country's leading professional association of Fee-Only financial advisors - highly trained professionals who are committed to working in the best interests of those they serve.
NAPFA members live by three important values:
To be the beacon for independent, objective financial advice for individuals and families.
To be the champion of financial services delivered in the public interest.
To be the standard bearer for the emerging profession of financial planning
Financial Planning Services and Fees
Your current financial situation and future needs are as unique as you are. Together we will clarify what services and support you require, which means I provide just as much or as little financial planning and advice as will help you achieve your goals.
You can choose to hire me to conduct a Comprehensive Financial Plan or you can choose one or more specific areas of focus:
Focused Financial Services
Investments - Initial Review and Balance
Investments – Annual Follow-up Review and Rebalance
Overhaul, Restructure, Consolidate Accounts
Cash Flow Analysis
Debt Reduction Plan
Social Security Optimization Analysis
Annuity Contract Review
Pension Elections Planning
House Sale, Refinance
Estate Planning, Conceptual
Insurance Review and Recommendations
An engagement typically take 4-10 hours. My fee will reflect the actual time involved in meeting with you in person or over the phone, researching and analyzing your current situation, and providing specific recommendations. I will provide an estimate of fees at the end of the Get Acquainted Meeting, when we have fully identified your needs.
Because I provide my services on an hourly Fee-Only basis, this means you will never pay a commission or hidden fees. Nor will you ever pay for more financial planning and advice than you need. You will never need to meet an account minimum to work with me, I will never require that you turn over your assets for management, nor will you pay unneeded, ongoing fees.
Fee-Only, Fiduciary, Independent:

Three Important Criteria to Consider When Choosing a Financial Advisor.
Specialties
Comprehensive Financial Planning
Retirement Income Planning
Investment Management
College Education Planning
Tax Planning
Ideal Clients
Retirees and Near Retirees
Growing Families
Business Owners and Executives
Sudden Money Situations
Novice Investors
Working Together
In-Office Meetings
Virtual Meetings
Clearly Defined Fees
No Product Sales
Complimentary Initial Consultation
Professional Designations & Affiliations
Gary Cook is a NAPFA-Registered Financial Advisor

The National Association of Personal Financial Advisors (NAPFA) is the country's leading professional association of Fee-Only financial advisors—highly trained professionals who are committed to working in the best interests of those they serve.

Gary Cook is a CERTIFIED FINANCIAL PLANNER™ Professional - Click for Verification

CFP® professionals are held to strict ethical standards to ensure financial planning recommendations are in your best interest. What's more, a CFP® professional must acquire several years of experience related to delivering financial planning services to clients and pass the comprehensive CFP® Certification Exam before they can use the CFP® designation.

Gary Cook is a member of the Garrett Planning Network. Click here to learn more.

Everyone needs competent, objective financial advice from time to time. The Garrett Planning Network has a nationwide membership with hundreds of independent, Fee-Only financial planners providing advice to people from all walks of life, without minimum account requirements, sales commissions, or long-term commitments. Our members proudly embrace their fiduciary duty, always placing their clients' best interests first.
Office Locations:
709 Cathedral Pointe Ln
Santa Barbara, CA 93111