Gregory Young
CFP®, EA, ChFC®
Ahead Full Wealth Management, LLC
Principal
Gregory
Young
CFP®, EA, ChFC®
Ahead Full Wealth Management, LLC
Principal
BB King said that the great thing about learning is nobody can ever take that away from you. Let me help you learn to be money savvy and to achieve your financial goals.
- Gregory Young, CFP®, EA, ChFC®
Rhode Island based fee-only financial planner empowering professionals doing good in the community and their families to achieve true wealth. Serving clients locally and across the country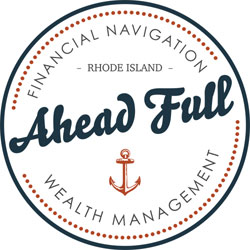 Gregory Young is Principal at Ahead Full Wealth Management located in North Kingstown, RI.
---
I am a fee-only financial planner and the founder of Ahead Full Wealth Management. I specialize in working with good people with complex income such as fluctuating pay, mixed taxation, and equity compensation. Many of my clients are small business owners, educators, military and defense contractors, and several receive stock options. I help people who use their money and careers to care for others feel confident their financial decisions move them in the right direction. My free time is spent traveling to Disney with my wife and two girls.
Gregory Young is a Member of the National Association of Personal Financial Advisors

The National Association of Personal Financial Advisors (NAPFA) is a leading professional association of Fee-Only financial advisors - highly trained professionals who are committed to working in the best interests of those they serve.
NAPFA members live by three important values:
To be the beacon for independent, objective financial advice for individuals and families.
To be the champion of financial services delivered in the public interest.
To be the standard bearer for the emerging profession of financial planning.
Ahead Full Wealth Management was created to provide financial clarity and direction for professionals and their families with objectivity and creativity. I am trying to achieve a change in mindset around financial advice to hone in on having a plan that evolves and course-corrects with our clients' ever changing lives and businesses, instead of the traditional approach of "this could go wrong, or you should do this to enhance your future" and "here is a product or service to achieve that end." At Ahead Full, I want our clients to experience the flow of discovering, dreaming, designing, and arriving at a destination that embodies their values and ambitions; personally, professionally, and financially, because no business, no person, and no family is the same.
Ahead Full strives to empower our clients to realize true wealth. I am a fiduciary every step of the way; meaning I have both a moral and a legal obligation to do what's in our clients' best interest always. I am not transactional, I don't receive commissions of any kind, so there is no rush to sell anyone anything, but there is real value realized in every meeting. I believe that there is always something going well in all of our lives and businesses, and that we're all great at something, but not necessarily everything. We can all use direction or the knowledge of someone that might know the questions to ask, or have the insights that can make us more efficient, or even has the energy to concentrate on things we struggle to focus on. I value sharing that knowledge and let's face it, money is emotional, and numbers make some folk's heads spin. I'm here to help you keep going full steam in the direction you choose.
Fee-Only, Fiduciary, Independent:

Three Important Criteria to Consider When Choosing a Financial Advisor.
Specialties
Comprehensive Financial Planning
Retirement Income Planning
Investment Management
Tax Planning
Equity Compensation Plans
Military Benefits & Lifestyle
Ideal Clients
Young Professionals
Small-Business Owners
Veterans, Military, & Federal Employees
Growing Families
Working Together
In-Office Meetings
Virtual Meetings
Clearly Defined Fees
No Product Sales
Complimentary Initial Consultation
Professional Designations & Affiliations
Office Locations:
650 Ten Rod Road
The Mill at Lafayette
North Kingstown, RI 02852