Jason Branning
CFP®, RICP®
Branning Wealth Management
Wealth Advisor
Jason
Branning
CFP®, RICP®
Branning Wealth Management
Wealth Advisor
As a fee-only financial planner, my focus is to offer unbiased retirement income planning and on-going management for those nearing or in retirement.
- Jason Branning, CFP®, RICP®
Fee-Only financial planner located in Ridgeland, MS, serving clients locally and across the country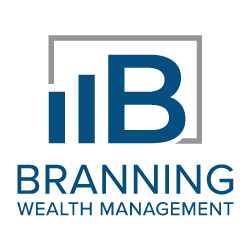 Jason Branning is a Ridgeland, MS fee-only financial advisor serving clients locally and across the country. Branning Wealth Management provides comprehensive financial planning using the Branning MATCH to help young professionals, pre-retirees and retirees and athletes organize, grow and protect their assets through life's transitions. As a fee-only, fiduciary, and independent financial advisor, Jason Branning is never paid a commission of any kind, and has a legal obligation to provide unbiased and trustworthy financial advice.
5/22/2023 - Jason Branning was interviewed by FeeOnlyNetwork.com
A stranger at a party asked you what you do. How do you answer?
I am a financial advisor that works with retirees and pre-retirees to create and manage strategies that support a stable, secure, and sustainable retirement.
What makes you or your firm particularly qualified to serve pre-retirees and those in retirement?
Retirement is the most difficult problem in personal finance according to Professor William Sharpe. As a retirement-focused advisor, our desire to help has driven us to develop a prioritized framework, Modern Retirement Theory (with co-author, M. Ray Grubbs, PhD.) for retirement decision-making. These works have been published by the Journal of Financial Planning and appear in retirement planning curricula for industry designations (Retirement Income Certified Professional and Retirement Management Analyst).
What steps do you take so that clients are assured that your fees are transparent?
Our website provides details about our fee structures and we discuss these prior to engagements. We also typically provide a fee analysis of existing holdings for comparison.
What do you wish more people knew about the process of creating a financial plan?
Creating a plan is the first step, but planning is technically a process that must also be monitored and updated over time. A plan tests cash flows and goals over your planning horizon, but life will never go exactly as planned.
What is the biggest misconception about your job?
The biggest misconception of my job is the view that all advisors are basically the same and offer advice and services in the same manner.
What advice would you give a college student wanting to enter the industry?
Pursue a designation like the CFP® and as you discover what interests you, then seek a specialized credential on that topic. Connect with a team or individual who can add perspectives or opportunities that can accelerate your personal and professional growth.
Who is/was your mentor in the industry?
Doug McDaniel
How has your family background influenced your personal financial mindset today?
My parents were both in the field of education and my personal financial mindset has been shaped by an interest in learning how to problem-solve.
What do you think is the biggest mistake people make with their money?
The biggest mistake people make with their money is making comparisons to their peer group or blindly following their peer group's financial decisions.
How has the shift to serving clients virtually impacted your business?
We have adopted more asynchronous methods of communication so clients can interact with information at the most convenient time for them. We video record answers to questions or review materials to provide clients ahead of meetings. This allows a client ample time to watch, re-watch, and draft questions. Meetings are more generative in nature than an information exchange.
Is there a particular book that has had a positive influence on your personal or professional life?
Grit by Angela Duckworth
How do you keep track of all the things you have to do?
Google Calendar, CRM workflows
How would you describe the culture of your firm?
Personable, intellectually curious, service-focused, fun!
Can you share a bit about your processes, services, and fees?
At Branning Wealth Management, we offer planning and investment management services. We use a safety-first approach to financial planning and asset management. We believe planning and investment management decisions should be approached as a liability-driven process. So, assets (investments, etc.), and cash flows should be prioritized and matched to projected liabilities (expenses and goals). The planning or investment management fees we receive are transparent and paid by clients for the services provided. Typical plans cost $4,000 one-time and asset management service fees are around 1% when managing one million dollars.
Tell me more about your firm's history.
Branning Wealth Management (BWM) was founded in 2009. The firm was started to offer academically tested best practices in planning and investments customized and delivered to individuals.
On a personal note, what should we know about you?
I have been married since 1998. My wife, Mary Kelly, and I have 4 children. I graduated with a B.A. in English (Honors) from Mississippi College. My hobbies include: reading, running, and listening to podcasts. I am an active member at Pear Orchard Presbyterian Church.
Jason Branning is a Member of the National Association of Personal Financial Advisors

The National Association of Personal Financial Advisors (NAPFA) is a leading professional association of Fee-Only financial advisors - highly trained professionals who are committed to working in the best interests of those they serve.
NAPFA members live by three important values:
To be the beacon for independent, objective financial advice for individuals and families.
To be the champion of financial services delivered in the public interest.
To be the standard bearer for the emerging profession of financial planning.
At Branning Wealth, we're passionate about helping clients nationwide achieve their financial goals. We take a unique approach to financial planning and investment management using the Modern Retirement Theory and Asset Dedication.
Fee-Only, Fiduciary, Independent:

Three Important Criteria to Consider When Choosing a Financial Advisor.
Specialties
Modern Retirement Theory
Comprehensive Financial Planning
Retirement Income Planning
Investment Management
College Education Planning
Tax Planning
Ideal Clients
Retirees and Near Retirees
Growing Families
Business Owners and Executives
Sudden Money Situations
Novice Investors
Working Together
In-Office Meetings
Virtual Meetings
Clearly Defined Fees
No Product Sales
Complimentary Initial Consultation
Professional Designations & Affiliations
Office Locations:
400 Fontaine Place
Suite 101
Ridgeland, MS 39157