Broussard Financial Group, LLC
Financial Advisor
Broussard Financial Group, LLC
Financial Advisor
As a fee-only financial planner, my focus is to offer unbiased financial advice to help you achieve your life goals.
- Jerry Broussard, CFP®
Fee Only Financial Planner with offices in Kaplan and Lafayatte, LA and serving clients nationwide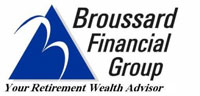 Jerry Broussard is a
Lafayette, LA fee-only financial planner
. Broussard Financial Group, LLC provides comprehensive and objective financial planning to help clients organize, grow and protect their assets through life's transitions. As a fee-only, fiduciary, and independent financial advisor, Jerry Broussard is never paid a commission of any kind, and has a legal obligation to provide unbiased and trustworthy financial advice.
Jerry Broussard
is a Fee Only Financial planner in Kaplan, LA. Jerry Broussard is a NAPFA-Registered Financial Advisor.
BROUSSARD FINANCIAL GROUP, LLC
Broussard Financial Group, LLC is a Registered Investment Advisor, registered in the State of Louisiana working with affluent individuals, private foundations and corporate retirement plans in the continental United States. Our specialty is providing unique solutions for retirement in the areas of asset management, wealth advisory and strategic tax planning.
INVESTORS CAN DO BETTER
Many investors are unaware of the differences in advice given by financial advisors. As a result, it is sometimes difficult to tell the difference between a financial product salesperson – and a financial advisor that only works for their client's best interests. BFG is a fee-only firm that holds a legal fiduciary responsibility to always place our clients interests before our own. We feel this is a unique and very important requisite for choosing a quality financial advisor.
WE CREATE SMART INVESTMENT PORTFOLIOS
Broussard Financial Group created ModelFolios to manage their clients investments. ModelFolios are math driven investment models designed to eliminate emotions and systematically ensure good investment decisions are made. BFG is the only investment firm in Louisiana that can offer ModelFolios, which have been recognized for their unique risk management and asset allocation characteristics.
Jerry Broussard is a Member of the National Association of Personal Financial Advisors

The National Association of Personal Financial Advisors (NAPFA) is a leading professional association of Fee-Only financial advisors - highly trained professionals who are committed to working in the best interests of those they serve.
NAPFA members live by three important values:
To be the beacon for independent, objective financial advice for individuals and families.
To be the champion of financial services delivered in the public interest.
To be the standard bearer for the emerging profession of financial planning
This advisor has not uploaded a business description yet.
Fee-Only, Fiduciary, Independent:

Three Important Criteria to Consider When Choosing a Financial Advisor.
Specialties
Comprehensive Financial Planning
Retirement Income Planning
Investment Management
Tax Planning
College Education Planning
Ideal Clients
Retirees and Near Retirees
Growing Families
Business Owners and Executives
Sudden Money Situations
Working Together
Virtual Meetings
In-Office Meetings
Clearly Defined Fees
No Product Sales
Complimentary Initial Consultation
Professional Designations & Affiliations
Office Locations:
3 Flagg Place
Suite B-2
Lafayette, LA 70508

106 West Veterans Memorial
PO Box 505
Kaplan, LA 70548