Jessi Chadd
M.S.F.S, CFP®, CeFT®
Aspyre Wealth Partners
Principal
Jessi
Chadd
M.S.F.S, CFP®, CeFT®
Aspyre Wealth Partners
Principal
We believe true wealth is living your best life. Our focus is to help YOU achieve your financial, career and life goals.
- Jessi Chadd, M.S.F.S, CFP®, CeFT®
Feeling overwhelmed with your challenging career and busy, complex life? We partner with you to manage your career and organize your personal financial life. Think of us as your Personal CFO.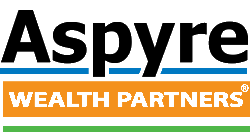 Jessi Chadd is a Overland Park, KS fee-only financial planner. Aspyre Wealth Partners provides comprehensive financial planning, investment management, and career planning to help individuals, corporate executives, and business owners organize, grow and protect their assets through life's transitions. As a fee-only, fiduciary, and independent financial advisor, Jessi Chadd is never paid a commission of any kind, and has a legal obligation to provide unbiased and trustworthy financial advice.
In her various roles at Aspyre Wealth Partners, Jessi Chadd is given a lot of opportunities to help others. With clients, she enjoys helping them understand their goals but also the motivations and intentions behind these goals. She works with clients to take their goals and make them a reality through actionable plans and consistent accountability. She finds it truly rewarding to help clients live the best life available to them and get specific on what that means. Jessi also finds it rewarding to walk alongside others as they manage the transitions that come with living a full life. Whether it is a job promotion, death of a loved one, cross country move, or starting a family, Jessi likes being the person that you can call upon for that plan of attack and a listening ear. Life transitions are a gift if they are viewed that way and Jessi likes to empower and guide individuals through these valleys in life to find the lessons and growth that comes from these times.
With her team and co-workers, Jessi helps create great experiences for our clients while making Aspyre an engaging work environment. Jessi isn't afraid to get into the details and remove any roadblocks that stand in the way of these objectives.
Jessi joined Aspyre in 2008 as a Financial Planning Associate and has made significant contributions to overall client service and our wealth management processes. Jessi received her B.S. in Family Studies and Human Services, with emphasis in personal financial planning from Kansas State University. Jessi completed her CFP® certification in 2010, earned her M.S. in Financial Services from The American College in 2012, and became a Certified Financial Transitionist® (CeFT) in 2019.
How Jessi is Making Life Count!®
Outside of Aspyre, you will find Jessi in a number of places. First being her kitchen where she enjoys cooking, baking, and feeding others. Next would be with her family, especially spending time with her two sisters. Jessi enjoys being in community with others but as an introvert, she looks for smaller gathering with shared purpose. You might see her at Heartland Community Church or at her local Toastmaster's club, TGIF. Jessi enjoys book club, her small group workouts, and her fitness community, Be Fit for Life. Professionally, Jessi is an active member of the Kansas City Financial Planning Association and participates in a study group of other CFPs.
Jessi lives with her partner, Chad, and they have a golden retriever, Walter, and an orange tabby cat, Todd. They enjoy living a healthy lifestyle, watching movies, and traveling as much as possible!
Master What's Next
At Aspyre Wealth Partners, we help successful business people to Master What's Next® - in their career, life and finances. In defining wealth more broadly to include financial and human capital, Aspyre partners with clients through their life's journey to clarify, reach and achieve their aspirations. Aspirations are your aims, desires and ambitions. How do you define success? What do you "Aspyre" to be?
Our approach:
* Start with where you are
* Help you identify where you want to be
* Build a plan
* Assist you in taking action to make progress
You don't work as hard as you do for money only and the hope you can one day "retire". You work to utilize your talents, make a contribution, and build financial wealth to accomplish things – such as funding children's college tuition, buying a home, caring for elderly parents, traveling to places long dreamed of-- living the life you desire. Whatever YOUR story, Asprye Wealth Partners strives to help you achieve it. Tell us YOUR STORY. And we'll help you Master What's Next® on your journey.
Fee-Only, Fiduciary, Independent:

Three Important Criteria to Consider When Choosing a Financial Advisor.
Specialties
Comprehensive Financial Planning
Retirement Income Planning
Investment Management
College Education Planning
Tax Planning
Ideal Clients
Retirees and Near Retirees
Growing Families
Business Owners and Executives
Sudden Money Situations
Novice Investors
Working Together
In-Office Meetings
Virtual Meetings
Clearly Defined Fees
No Product Sales
Complimentary Initial Consultation
Professional Designations & Affiliations
Jessi Chadd is a CERTIFIED FINANCIAL PLANNER™ Professional - Click for Verification

CFP® professionals are held to strict ethical standards to ensure financial planning recommendations are in your best interest. What's more, a CFP® professional must acquire several years of experience related to delivering financial planning services to clients and pass the comprehensive CFP® Certification Exam before they can use the CFP® designation.

Jessi Chadd is a Certified Financial Transitionist® (CeFT™)

A Financial Transitionist® is a professional with an established career in the financial services industry who recognizes the importance and the power of the personal side of money and the unique challenges of transitions. Financial Transitionists® have a rich and comprehensive understanding of how people subjectively experience change, and are able to co-create their highest outcomes with them.
Office Locations:
10000 College Boulevard
Suite 260
Overland Park, KS 66210