X and Y Advisors, Inc.
Financial Planner
X and Y Advisors, Inc.
Financial Planner
To Make Fee-Only Financial Planning Services Available And Affordable To Young Chinese Professionals In The United States, We Established X and Y Advisors, Inc.
- Jiyao Xu, CFP®, CFA
Fee-Only Financial Planner located in Greater Los Angeles Area, CA and serving clients across the country via virtual meeting.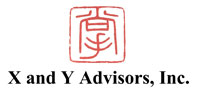 Jiyao Xu is a fee-only financial planner. X and Y Advisors, Inc. provides comprehensive and objective financial planning to help clients organize, grow and protect their assets through life's transitions. As a fee-only, fiduciary, and independent financial advisor, Jiyao Xu is never paid a commission of any kind, and has a legal obligation to provide unbiased and trustworthy financial advice.
Jiyao Xu is a fee-only financial planner. He established X and Y Advisors, Inc. to make high-quality financial planning services available and affordable to young Chinese professionals living in the United States.
After one year of experience with KPMG China, Jiyao realized that corporate finance is not his interest. In 2012, he came to Los Angeles to join his beloved wife, Vivianna, and study Personal Financial Planning. While taking different courses at UCLA, Jiyao managed to pass the CFP® exam and all three levels of CFA programs. He also went through the real estate broker education program and then worked for a local wealth management firm for several years. With what he has gone through, he understands the needs and concern of the young professionals living in the U.S.
From his professional experience serving high-net-worth individuals, Jiyao realizes that there are so many financial planning strategies that could be applied and may even create relatively more value to young professionals. Therefore, he decided to establish X and Y Advisors, Inc. and share his knowledge to help more people and families.
Jiyao Xu is a Member of the National Association of Personal Financial Advisors

The National Association of Personal Financial Advisors (NAPFA) is a leading professional association of Fee-Only financial advisors - highly trained professionals who are committed to working in the best interests of those they serve.
NAPFA members live by three important values:
To be the beacon for independent, objective financial advice for individuals and families.
To be the champion of financial services delivered in the public interest.
To be the standard bearer for the emerging profession of financial planning
COMPREHENSIVE FINANCIAL PLANNING
This is our ongoing financial planning service. We partner with you, initially and over time, to help you organize, clarify and simplify your financial life through ongoing communication and collaboration that reflects changes in your life, the laws, and the investment markets.
Investment analysis and tax preparation are included as part of this package. For those of you who do not want to implement the recommended investment strategy by yourselves, we also provide an optional investment management service to our comprehensive financial planning clients at additional cost.
Click here to learn more about the common topics we cover in a comprehensive financial plan.
FINANCIAL PLANNING CONSULTATION
Our one-time consultation service is designed for people who are not ready for comprehensive financial planning service but need help on some particular questions. You will receive guidance and advice about your specifically defined needs and concerns.
TAX PREPARATION
We also provide independent tax preparation service for individuals and business. This service covers both Federal and State income tax returns. Bookkeeping and payroll service can be added upon request at additional cost.
Fee-Only, Fiduciary, Independent:

Three Important Criteria to Consider When Choosing a Financial Advisor.
Specialties
Comprehensive Financial Planning
Investment Management
College Education Planning
Tax Planning
Ideal Clients
Growing Families
Business Owners and Executives
Novice Investors
Working Together
In-Office Meetings
Virtual Meetings
Clearly Defined Fees
No Product Sales
Complimentary Initial Consultation
Professional Designations & Affiliations
Office Locations:
840 Apollo Street, Suite 100
El Segundo, CA 90245