Branning Wealth Management
Financial Advisor
Branning Wealth Management
Financial Advisor
As a fee-only financial planner, my focus is to provide unbiased, hands-on, practical financial advice for millennials and those starting out in their working careers.
- Johnson Rhett, ChFC®
Fee-Only financial planner located in Ridgeland, MS, serving clients locally and across the country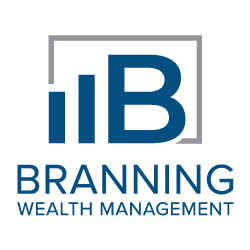 Johnson Rhett is a Ridgeland, MS fee-only financial advisor serving clients locally and across the country. Branning Wealth Management provides comprehensive financial planning using the Branning MATCH to help young professionals, pre-retirees, and retirees and athletes organize, grow and protect their assets through life's transitions. As a fee-only, fiduciary, and independent financial advisor, Johnson Rhett is never paid a commission of any kind, and has a legal obligation to provide unbiased and trustworthy financial advice.
5/22/23 - Johnson Rhett was interviewed by FeeOnlyNetwork.com
Who do you serve and what makes you or your firm particularly qualified to serve those clients?
I primarily serve millennials, early-career individuals, and young families. Branning Wealth Management specializes in liability-driven investing, which makes us different from most in the industry. Rather than simply seeking a "total return" strategy, all our decisions are based on the client's personal financial plan.
Tell me about a unique client situation where your experience and expertise added significant value to the relationship.
During the recent rising interest rate environment, I helped a client optimize their cash holdings by transferring funds from an account with a meager interest rate. As a result of this relocation, the client is now earning approximately $5,000 more in interest per year than before.
How do you hope the industry will evolve, and how are you contributing towards that change?
I am hopeful that the financial planning/advisory industry will continue to trend toward "true fiduciary" status. I'd love to see people who are searching for a financial advisor paired with competent advisors that genuinely want the very best for those that they serve. To contribute to this change, I actively pursue continuing education and professional development. Additionally, I remain engaged with industry associations such as the Financial Planning Association (FPA), The National Association of Personal Financial Advisors (NAPFA), and XY Planning Network - all of which promote fiduciary standards. Transparent communication and client education are at the core of my approach. By placing clients first, I aim to not only drive the industry's evolution but also build trust in financial advisory relationships.
A stranger at a party asked you what you do. How do you answer?
I walk alongside millennials and those starting out in their working career to build a better financial life.
What steps do you take so that clients are assured that your fees are transparent?
To ensure transparency, I prioritize open and proactive communication with my clients regarding our fees. Comprehensive details about our fee structures are easily accessible on our website. Prior to establishing a client relationship, I emphasize the importance of a written agreement that clearly outlines the agreed-upon fee structure. I always encourage clients to ask questions if anything needs clarification. Furthermore, I usually offer a fee analysis that compares their existing holdings.
What do you wish more people knew about the process of creating a financial plan?
Creating a financial plan involves developing (and navigating) a roadmap to achieve your financial goals. Despite what some may advertise, there truly is no "one-size-fits-all". It is ALL unique and personal to the individual and/or family. Building a comprehensive financial plan also requires vulnerability and a willingness to be candid with your advisor.
What is the biggest misconception about your job?
All I do is pick investments! The role of a comprehensive fiduciary advisor is to, first and foremost, help create and maintain a financial plan for the client. Investment management is a piece of the puzzle, but not the whole picture.
What has been your "aha-moment" during your financial services career?
People don't necessarily care about 'how the market is doing,' 'what happened with interest rates,' or 'economic forecasts.' What they truly want to know is if they'll be okay.
What do you think is the biggest mistake people make with their money?
Failing to live within your means.
How has the shift to serving clients virtually impacted your business?
The technological advantages of the past few years have made it easier to reach and serve clients from a distance! Oftentimes, we video-record answers to questions or review materials to provide clients ahead of meetings. This allows the client the time to watch, re-watch, and draft questions. It's great to have the ability to work with those who are not just local.
Who is/was your mentor in the industry?
Jason Branning
Is there a particular book that has had a positive influence on your personal or professional life?
The Psychology of Money by Morgan Housel
If you could only give one piece of financial advice, what would it be?
Live within your means.
Have you had any interesting jobs prior to becoming a financial advisor?
Prior to becoming a financial advisor, I worked in a college campus ministry position for three years. It was a very relationally-focused job, which helps me as I serve my clients.
What is the least understood aspect of your job?
The behavioral or "psychological" side of finance. A significant part of my job involves helping clients manage their emotions, biases, and misconceptions about money. This is an integral part of helping them achieve their financial goals.
How do you keep track of all the things you have to do?
Google Calendar, Apple Notes, and Redtail (CRM).
How would you describe the culture of your firm?
Hospitable, approachable, service-focused, and flexible.
Can you share a bit about your processes, services, and fees?
At Branning Wealth Management, we offer financial planning and investment management services. We use a safety-first approach to financial planning and asset management. We believe planning and investment management decisions should be approached as a liability-driven process, where assets (such as investments) and cash flows are aligned with projected liabilities, including expenses and goals.
Our fees for planning and investment management are always transparent, and clients pay for the services we provide. If clients have specific concerns regarding budgeting, cash flow planning, debt management, investment planning, retirement planning, tax planning, or wealth management, we also offer one-time engagements to address these inquiries and provide expert guidance for your specific situation.
By employing our safety-first approach and focusing on liability-driven strategies, we ensure that our clients' financial goals are at the forefront of every decision we make. Our aim is to help clients achieve long-term financial security and peace of mind.
Tell me more about your firm's history.
Branning Wealth Management (BWM) was founded in 2009. The firm was started to offer academically tested best practices in planning and investments customized and delivered to individuals.
On a personal note, what should we know about you?
I grew up in Hattiesburg, MS, and went to college at Mississippi State University. I've been married to my wife, Anna, for three years. My hobbies include disc golf, fishing, guitar, and mandolin. I am an active member at First Presbyterian Church of Jackson, where I'm involved with the music ministry, the young adult ministry, and serve as an usher.
Johnson Rhett is a Member of the National Association of Personal Financial Advisors

The National Association of Personal Financial Advisors (NAPFA) is a leading professional association of Fee-Only financial advisors - highly trained professionals who are committed to working in the best interests of those they serve.
NAPFA members live by three important values:
To be the beacon for independent, objective financial advice for individuals and families.
To be the champion of financial services delivered in the public interest.
To be the standard bearer for the emerging profession of financial planning.
At Branning Wealth, we're passionate about helping clients nationwide achieve their financial goals. We take a unique approach to financial planning and investment management using the Modern Retirement Theory and Asset Dedication.
Fee-Only, Fiduciary, Independent:

Three Important Criteria to Consider When Choosing a Financial Advisor.
Specialties
Comprehensive Financial Planning
Retirement Income Planning
Investment Management
College Education Planning
Tax Planning
Ideal Clients
Millennials
Young Professionals
Novice Investors
Growing Families
Business Owners and Executives
Working Together
In-Office Meetings
Virtual Meetings
Clearly Defined Fees
No Product Sales
Complimentary Initial Consultation
Professional Designations & Affiliations
Office Locations:
400 Fontaine Place
Suite 101
Ridgeland, MS 39157