Better Financial Education
Owner & Planner
Better Financial Education
Owner & Planner
My focus is to get you to, and through, retirement.
- Larry Frank, CFP®, MBA
Fee-Only Advisor serving the Lincoln, Rocklin, Roseville, Granite Bay CA and surrounding areas.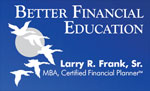 Larry Frank is a
Roseville, CA fee-only financial planner
. Better Financial Education provides comprehensive and objective financial planning to help clients organize, grow and protect their assets through life's transitions. As a fee-only, fiduciary, and independent financial advisor, Larry Frank is never paid a commission of any kind, and has a legal obligation to provide unbiased and trustworthy financial advice.
Larry was born in Duluth MN, and grew up in Cloquet MN. He has a B.S. cum laude in Physics from the University of Minnesota and a Master's Degree in Business Administration (MBA) from the University of South Dakota with a concentration in corporate finance and investments.
Larry retired in 1994 from the United States Air Force as a commissioned officer after a career as a Command Pilot where he flew helicopters, acrobatic jets, and internationally to 47 countries on five continents with large multiengine aircraft. He was also a contingency and war planner during his career as a field grade officer. These experiences showed him how to think ahead and plan for a wide range of alternative possibilities.
Larry has years of financial planning research and real-life experiences showing people personal finance choices that are focused on how to make smart decisions to work towards growing and protecting their wealth, not income. Rather than make things complicated, his work has been focused around simplifying the complexities of prioritizing simultaneous financial planning issues, and their related calculations, so the person's living is sustainable.
A Certified Financial Planner TM practitioner, Larry is also the author of Wealth Odyssey, a book designed to help people make sensible plans for a successful retirement and pursuing their other goals by understanding how financial planning issues are related to each other through wealth. He has research published in the Journal of Financial Planning related to retirement planning.
Larry has served on the Board of Directors for the Financial Planning Association of Northern California, and has appeared in nationally syndicated articles and on nationally syndicated radio (please see below for a partial listing of articles and shows). Larry is a member of the Academy of Financial Services. Larry is also a member of National Association of Personal Financial Advisers (NAPFA), a national association of Fee-only advisers.
His hobbies include reading and travel, especially to El Salvador where he met his wife, Rosa Maria Cáceres. They live in Rocklin, CA and have four children and nine grandchildren.
They speak spanish in their home. Ellos hablan español en su hogar.
Larry Frank is a Member of the National Association of Personal Financial Advisors
The National Association of Personal Financial Advisors (NAPFA) is a leading professional association of Fee-Only financial advisors - highly trained professionals who are committed to working in the best interests of those they serve.
NAPFA members live by three important values:
To be the beacon for independent, objective financial advice for individuals and families.
To be the champion of financial services delivered in the public interest.
To be the standard bearer for the emerging profession of financial planning
Better Financial Education was founded in 1997. The focus is to provide people with a deeper insight into how money works and how to make informed decisions about your financial resources and earnings ... to get you to, and through, retirement.
Money is managed based on sound academic research at the investment level. Plan level decisions are made based on peer reviewed published research. The future is always uncertain, however decisions are possible even in uncertainty.
Work with someone who is actually developing thought and processes that others in the profession are adapting.

Larry is a member of the Academy of Financial Services (http://academyfinancial.org/mission.html) and member of the Financial Planning Association (http://www.fpanet.org/) (http://www.cfp.net/).

Office hours are by appointment only. Please feel free to contact me: LarryFrankSr@BetterFinancialEducation.com
Fee-Only, Fiduciary, Independent:

Three Important Criteria to Consider When Choosing a Financial Advisor.
Specialties
Comprehensive Financial Planning
Retirement Income Planning
Investment Management
College Education Planning
Tax Planning
Ideal Clients
Retirees and Near Retirees
Growing Families
Business Owners and Executives
Sudden Money Situations
Novice Investors
Working Together
In-Office Meetings
Virtual Meetings
Clearly Defined Fees
No Product Sales
Complimentary Initial Consultation
Professional Designations & Affiliations
Office Locations:
300 Harding Blvd Suite 103D
Roseville, CA 95678