Lewis Altfest
CFP®, CPA/PFS, CFA
Altfest Personal Wealth Management
Chief Investment Officer and Principal Advisor
Lewis
Altfest
CFP®, CPA/PFS, CFA
Altfest Personal Wealth Management
Chief Investment Officer and Principal Advisor
As a fee-only financial planner, my focus is to offer unbiased financial advice to help you achieve your life goals.
- Lewis Altfest, CFP®, CPA/PFS, CFA
Fee-Only financial planner located in New York, NY, serving clients locally and across the country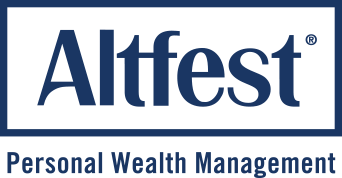 Lewis Altfest is a New York, NY fee-only financial planner. Altfest Personal Wealth Management provides integrated financial planning and investment management to help medical and dental professionals and business owners organize, grow and protect their assets through life's transitions. As a fee-only, fiduciary, and independent financial advisor, Lewis Altfest is never paid a commission of any kind, and has a legal obligation to provide unbiased and trustworthy financial advice.
Lewis J. Altfest, Ph.D., is CEO, Chief Investment Officer and a Principal Advisor for Altfest Personal Wealth Management®. He directs the firm's Investment and Leadership Committees, and leads the Portfolio Action Group, which sets investment strategies for client portfolios.
Prior to founding the firm in 1983, he was a General Partner and Director of Research for Lord Abbett & Co., a large mutual fund and investment management company that manages more than $100 billion in assets. Lew began his investment career as a research analyst at Wertheim & Co.
Lew was the sole recipient of the 2007 Charles R. Schwab IMPACT Award® – arguably the highest distinction in the profession – for his sustained vision, outstanding leadership and client commitment.
His academic textbook, Personal Financial Planning, was published by McGraw-Hill and is currently used at universities around the country. Lew is also co-author of Lew Altfest Answers Almost All Your Questions About Money, named one of the best financial planning books by Money magazine, and co-author of An Introduction to Business.
Lew is an Associate Professor of Finance at the Lubin School of Business at Pace University, where he teaches financial planning and investments. In addition to the books listed above, Lew is the author of many scholarly articles on financial planning and investments.
Lew lectures frequently to investors, pre-retirees and retirees as well as to other financial professionals. He is often interviewed by the media and currently writes a monthly investment column for Medical Economics.
Lew is listed in Who's Who in Finance and Who's Who in America.
Lew received his Ph.D. from the Graduate Center of the City University of New York (CUNY). He has an MBA from New York University and a BBA from Baruch College. He also holds the CFA, CFP®, CPA and PFS designations.
Lewis Altfest is a Member of the National Association of Personal Financial Advisors

The National Association of Personal Financial Advisors (NAPFA) is a leading professional association of Fee-Only financial advisors - highly trained professionals who are committed to working in the best interests of those they serve.
NAPFA members live by three important values:
To be the beacon for independent, objective financial advice for individuals and families.
To be the champion of financial services delivered in the public interest.
To be the standard bearer for the emerging profession of financial planning.
How We Help You
At Altfest Personal Wealth Management, we want to help you meet your goals. We understand that each person's lifestyle is unique and requires distinct consideration and planning. That's why we provide services with a personal touch, whether it's investing client money or providing advanced financial planning guidance – we listen to what you really want, and really don't want. Clients benefit from our expertise, objectivity and genuine service, which have been a hallmark at our firm since 1983. That's why we believe our clients make a smart choice in working with us.
Today, we offer you:
A staff of some 20 smart and friendly professionals dedicated to making you comfortable as we make your financial life easier.
The willingness to serve you in the way that best addresses your own special circumstances, sensitivities and concerns.
Sophisticated financial planning to help you navigate your way to a secure future and make intelligent decisions in areas such as investments, retirement, college planning, insurance or estate planning.
A diversified portfolio of select individual stocks, mutual funds, bonds and private investments, custom tailored to your individual needs, objectives, and concerns, and managed by a talented team led by Chief Investment Officer, Lewis J. Altfest, regarded by many as one of the best in wealth management.
Pioneers in the world of fee-only wealth management – no commissions, no products to sell; therefore no conflicts of interest -- Altfest has worked hard to earn and reward the trust of our clients. Beyond the personal fulfillment of having a respected and successful practice, are the strong and lasting relationships with our family of clients.
Fee-Only, Fiduciary, Independent:

Three Important Criteria to Consider When Choosing a Financial Advisor.
Specialties
Comprehensive Financial Planning
Retirement Income Planning
Investment Management
College Education Planning
Tax Planning
Ideal Clients
Retirees and Near Retirees
Business Owners and Executives
Sudden Money Situations
High Net Worth Clients
Dental and Medical Professionals
Working Together
In-Office Meetings
Virtual Meetings
Clearly Defined Fees
No Product Sales
Complimentary Initial Consultation
Professional Designations & Affiliations
Lewis Altfest is a NAPFA-Registered Financial Advisor

The National Association of Personal Financial Advisors (NAPFA) is a leading professional association of Fee-Only financial advisors—highly trained professionals who are committed to working in the best interests of those they serve.

Lewis Altfest is a CERTIFIED FINANCIAL PLANNER™ Professional - Click for Verification

CFP® professionals are held to strict ethical standards to ensure financial planning recommendations are in your best interest. What's more, a CFP® professional must acquire several years of experience related to delivering financial planning services to clients and pass the comprehensive CFP® Certification Exam before they can use the CFP® designation.

Lewis Altfest is a CFA® charterholder

The CFA Program is the most respected and recognized investment management designation in the world with less than 200,000 charterholders globally.

This advisor has earned the Chartered Financial Analyst® designation (CFA® charter) by passing all three of the CFA exams and gaining relevant industry experience, demonstrating their mastery of the investment analysis and decision-making skills most needed in the global investment management profession.

Lewis Altfest is a Member of the CFA Institute

The CFA Institute is a global, not-for-profit organization comprising the world's largest association of investment professionals. With more than 170,000 members and 150 regional societies around the world, the organization is dedicated to developing and promoting the highest educational, ethical, and professional standards in the investment industry.

Lewis Altfest is a Certified Public Accountant (Learn More)

A Certified Public Accountant (CPA) is a professional accountant who has met the education and experience requirements set by their state's Board of Accountancy and has passed the Uniform CPA Exam. CPAs are licensed to provide a wide range of accounting services, including financial statement preparation, tax planning and preparation, auditing, consulting, and other financial advisory services.

Lewis Altfest is a Personal Financial Specialist (PFS)

The Personal Financial Specialist (PFS) credential is granted solely to CPAs (Certified Public Accountants) with considerable personal financial planning education and experience. All areas of personal financial planning—including estate, retirement, investments, and insurance—have tax implications, and the PFS professional has the experience, ethics, and expertise to get the job done right.
Office Locations:
445 Park Ave
6th Floor
New York, NY 10022