Empowerment Financial Guidance, LLC
Financial Advisor
Empowerment Financial Guidance, LLC
Financial Advisor
Helping you build the financial confidence to turn your dreams into plans.
- Peggy Stephan, CFP®
Fee-only financial planner located in San Jose, CA, serving clients in the Bay area and across the country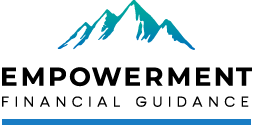 Margaret "Peggy" Stephan, CFP® began her financial planning career in 1992, serving as the Command Financial Specialist while on active duty with the United States Navy. Peggy has worked in the securities industry for Merrill Lynch, at Wales Investments in San Jose, and at Retirement Capital Strategies.
Peggy holds a Bachelor's degree in Microbiology and Immunology from the University of California at Berkeley.
She has been a member of the Financial Planning Association since 2000. Through the FPA, Peggy coordinated a program to provide pro bono financial planning education to military families.
While on active duty, Peggy led carrier-based air logistics missions in the Western Pacific and Persian Gulf, flying the C-2 Grumman Greyhound. She also flew the LC-130 Hercules in support of the National Science Foundation's United States Antarctic Program. She retired from the US Navy Reserves in 2017.
In her free time, she enjoys gardening, hiking, and travel with her family.
Our team of fee-only financial planners at Empowerment Financial Guidance will act as your guides on the path to financial independence. We assist you in clarifying goals, developing a strategy, investing appropriately, and monitoring progress. We partner with our clients to create a custom-tailored financial fitness program.
Through education, comprehensive financial planning, and alignment of your investments to your personal risk tolerance and goals, we will help you find the path to work toward realizing your life goals.
With a combined 52 years of experience in financial planning and investments, we have made the journey to financial independence with many successful clients.
We'd like to do the same for you!
Fee-Only, Fiduciary, Independent:

Three Important Criteria to Consider When Choosing a Financial Advisor.
Specialties
Social Security Planning
Qualified Charitable Distributions
Comprehensive Financial Planning
Retirement Income Planning
Investment Management
College Education Planning
Tax Planning
Ideal Clients
Retirees and Near Retirees
Growing Families
Business Owners and Executives
Sudden Money Situations
Novice Investors
Working Together
In-Office Meetings
Virtual Meetings
Clearly Defined Fees
No Product Sales
Complimentary Initial Consultation
Professional Designations & Affiliations
Peggy Stephan is a Member of the Alliance of Comprehensive Planners (ACP)

Alliance of Comprehensive Planners (ACP) is the community of tax-focused financial planners that operate under the retainer model. Passionately dedicated to superb client service, ACP planners' only source of income is client retainer fees – not commissions. With an ACP planner, you can be confident you're getting experience, knowledge, research, and most importantly, advice that is tailored just for you.

Peggy Stephan is a CERTIFIED FINANCIAL PLANNER™ Professional - Click for Verification

CFP® professionals are held to strict ethical standards to ensure financial planning recommendations are in your best interest. What's more, a CFP® professional must acquire several years of experience related to delivering financial planning services to clients and pass the comprehensive CFP® Certification Exam before they can use the CFP® designation.
Office Locations:
4030 Moorpark Ave
Suite 250
San Jose, CA 95117