Melissa Ellis
CFP®, CDFA®, MS
Sapphire Wealth Planning LLC
Founder/President
Melissa
Ellis
CFP®, CDFA®, MS
Sapphire Wealth Planning LLC
Founder/President
As a fee-only financial planner, my focus is to offer unbiased financial advice to help you achieve your life goals.
- Melissa Ellis, CFP®, CDFA®, MS
Fee-Only financial planner located in Overland Park, KS, serving clients in the Greater Kansas City area and across the country.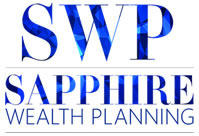 Melissa Ellis is an Overland Park, KS fee-only financial planner.
Sapphire Wealth Planning is a fee-only financial planning firm passionate about helping women establish and maintain wealth. Our specialty is navigating the financial transition for those going through the divorce process.
Melissa Ellis is never paid a commission of any kind, and has a legal obligation to provide unbiased and trustworthy financial advice.
Melissa Ellis is a Fee Only Financial planner in Overland Park, KS.
After a career in the travel industry, Melissa made a career change to personal financial planning in October 2008, just in time for the bumpy ride the Market took that year. Melissa enjoys working with people and helping them achieve their financial goals. "It's my goal to help my clients live their best life by helping them attain financial independence. It's very rewarding to know that you are helping your clients sleep better at night because they have their finances in order. "
Melissa is a Certified Financial Planner®. She earned her bachelor's degree from Park University in Parkville, MO in Business Management and graduated with cum laude honors. She then earned her Masters of Science in Personal Financial Planning from the University of Missouri –Columbia. Melissa is a proud member of the XY Planning Network, Greater Kansas City chapter of the Financial Planning Association, NAPFA, International Association of Women, Chamber of Commerce Leawood KS, and Women's Executive Club.
When Melissa is not working, she enjoys traveling with her husband, Doug.. Melissa has traveled to all 50 states, as well, as Europe, Canada, Mexico, and the Caribbean. Her next travel goal is to visit all 7 continents.
Melissa Ellis is a Member of the National Association of Personal Financial Advisors

The National Association of Personal Financial Advisors (NAPFA) is a leading professional association of Fee-Only financial advisors - highly trained professionals who are committed to working in the best interests of those they serve.
NAPFA members live by three important values:
To be the beacon for independent, objective financial advice for individuals and families.
To be the champion of financial services delivered in the public interest.
To be the standard bearer for the emerging profession of financial planning.
Sapphire Wealth Planning is a fee-only comprehensive financial planning and registered investment advisory firm . We provide holistic financial planning and investment advice to women in transition such as divorce, career changes, sending kids to college or widowhood.
The majority of our clients are enjoying a successful career and motivated to meet their financial goals by investing while following a comprehensive financial plan tailored especially for them. We are available to meet with each client on a quarterly basis to assist them in meeting their goals. A minimum level of assets is NOT required to become a client. We offer flexible payment arrangements including a monthly retainer model.
Fee-Only, Fiduciary, Independent:

Three Important Criteria to Consider When Choosing a Financial Advisor.
Specialties
Comprehensive Financial Planning
Divorce Planning
College Planning for Families of Divorce
Tax Planning
Investment Management
Ideal Clients
Women Business Owners and Executives
Gen X Families
Millennial Investors
Career Changers
Baby Boomer Retirees and Near Retirees
Working Together
Complimentary Initial Consultation
In-Office Meetings
Virtual Meetings
Clearly Defined Fees
No Product Sales
Professional Designations & Affiliations
Office Locations:
9393 W 110th St
Suite 500
Overland Park, KS