Miller Premier Investment Planning, LLC
Retirement Planner
Miller Premier Investment Planning, LLC
Retirement Planner
As a independent fee-only retirement planner, my objective it to help you live a rewarding retirement without fear of running out of money before oxygen.
- Michael Miller, CFP®
Nurturing Your Nest Egg for a Golden Tomorrow!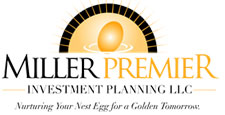 Michael Miller is a Mansfield, TX fee-only retirement planner. Miller Premier Investment Planning, LLC provides comprehensive and objective financial planning to help clients organize, grow, and protect their assets through life's transitions. As a fee-only, fiduciary, and independent financial advisor, Michael Miller is never paid a commission of any kind, and has a legal obligation to provide unbiased and trustworthy financial advice. Want to learn more? Contact us for a free retirement assessment.
Named one of the top financial planners in the country; Michael Miller has been featured as a financial planning resource in major media outlets. He founded Miller Premier in 2007 with the purpose of helping successful professionals and business owners realize their goals for an ideal retirement on a fee-only basis. His approach as a fiduciary is to provide solutions rather than pushing products.
Michael has a very strong background in retirement and investment planning - as a financial planning manager for ICMA-RC he was responsible for over $1 billion in private client retirement accounts. He also writes a newsletter that educates workers on how to best plan and invest for their retirement.
Mr. Miller is a CERTIFIED FINANCIAL PLANNER™ professional and has been a featured speaker for the Texas Association of Counties' Annual Judges and Commissioner's Conference and numerous financial planning seminars throughout the country.
Michael graduated as class valedictorian from Fayetteville State University with a degree in business administration and a concentration in banking and finance. He earned his financial planning certificate from the College for Financial Planning in 1998.
He is a Gulf War Veteran having served in the 82nd Airborne Division as an Intelligence Analyst, Code Breaker, and Paratrooper. Michael is blessed with his beautiful bride of 30 years - Rhonda and his daughter Melanie who is a teacher. He is honored to be a part of the Mansfield community and enjoys fellowship and volunteering with local churches to help people in need of assistance.
Feel free to call Michael at 817-680-8198 or email him at michael@feeonlyretirement.com with any questions or to schedule your complimentary retirement and investment strategy session.
We look forward to hearing from you and helping you take the next step to reach your retirement goals with complete confidence.
Michael Miller is a Member of the National Association of Personal Financial Advisors

The National Association of Personal Financial Advisors (NAPFA) is a leading professional association of Fee-Only financial advisors - highly trained professionals who are committed to working in the best interests of those they serve.
NAPFA members live by three important values:
To be the beacon for independent, objective financial advice for individuals and families.
To be the champion of financial services delivered in the public interest.
To be the standard bearer for the emerging profession of financial planning.
Retirement Planning Specialist in Midlothian Texas
Miller Premier Investment Planning, LLC is a fee-only independent registered investment advisor providing award winning investment management and retirement planning services for successful professionals and business owners nationwide. Please feel free to browse around our website for more information on what makes Miller Premier Investment Planning, LLC the right choice for all of your financial, retirement, and investment planning needs. For more information or to schedule a complimentary get acquainted meeting, call us at 817-680-8198 or email us at michael@feeonlyretirement.com.

A Fee Only Financial Services Boutique
As a boutique financial and investment advisory firm, we offer you service that is personal, private, and affordable. We aspire to have only a limited number of clients in order to provide you with the personal service you deserve. The same kind of service that earned Michael the privilege of being named one of the top financial planners in the country for the past four consecutive years. As a CERTIFIED FINANCIAL PLANNER™ practitioner and independent registered investment advisor, Michael Miller personally handles all facets of the financial planning and investment recommendation process which means you will never be handed off to someone else.

Consequently, Michael:
monitors your investment recommendations daily
advises you on all areas of financial planning
shows you how to accomplish your goals in life
tailors your investment portfolio to your personal situation
takes the time to understand your story - your goals in life and how you feel about your money

You will always understand everything we do for you—your investments, fees, and financial plans--Nothing is ever hidden

As a privately-held independent investment advisory firm, our advice is not influenced by a corporate parent and we are free to choose the right investment and financial planning solutions for you. The better your account grows the more we make - aligning our interest with yours.
Fee-Only, Fiduciary, Independent:

Three Important Criteria to Consider When Choosing a Financial Advisor.
Specialties
Retirement Income Planning
Investment Management
Tax Planning
Social Security Optimization
Comprehensive Financial Planning
Ideal Clients
Retirees and Near Retirees
Business Owners and Executives
Value Time & Expertise
Sudden Money Situations
Novice Investors
Working Together
Free Retirement Assessment
No Product Sales
Clearly Defined Fees
Virtual Meetings
In-Office Meetings
Professional Designations & Affiliations
Office Locations:
1302 Brynlee Ln
Mansfield, TX 76063