Richard Salmen
CFP®, CFA®, EA, CTFA
Family Investment Center
President/Financial Advisor
Richard
Salmen
CFP®, CFA®, EA, CTFA
Family Investment Center
President/Financial Advisor
As a fee-only financial planner, my focus is to offer unbiased financial advice to help you achieve your life goals.
- Richard Salmen, CFP®, CFA®, EA, CTFA
Fee-Only financial planner located in Lenexa, KS, serving clients locally and across the country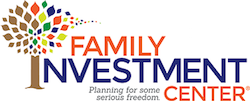 Richard Salmen joined Family Investment Center in January 2018. He is a CERTIFIED FINANCIAL PLANNER® Professional and a Certified Trust & Financial Advisor (CTFA). He received the CFA Institute Board of Governors Chartered Financial Analyst (CFA®) charter. As an Enrolled Agent (EA), he is authorized to represent taxpayers before the Internal Revenue Service at all levels.
Richard's previous experience includes serving as the Chief Executive Officer of Northern Financial Advisors, a Detroit, MI fee only financial planning and investment management firm. For 16 years, he served in a top leadership position at BOK Financial Corp/GTrust, overseeing the firm's financial planning practice.
Richard graduated summa cum laude with a Bachelor of Science in Business Management from the University of Nebraska at Kearney and was a graduate business scholar while receiving his Master of Business Administration (MBA) degree from the University of Kansas.
In 2006, he began a three-year term as a member of the national board of directors for the Financial Planning Association (FPA) based in Denver, Colorado, ultimately serving as national President in 2009. In November 2014, he was elected to serve a four-year term on the Board of Directors for the Certified Financial Planner Board of Standards, Inc., beginning January 1, 2015. Within this term, he was elected to serve as Chair-Elect of Certified Financial Planner Board of Standards, Inc. for 2017. In 2016, he was recognized as a recipient of the 2016 Heart of Financial Planning award.
Richard serves as the 2018 Chair of CFP® Board's Board of Directors.
He is a retired air traffic controller for the Federal Aviation Administration and spent 14 years as a member of the Army Reserves, finishing his career at the rank of Captain. Read more at www.richardsalmen.com.
Richard Salmen is a Member of the National Association of Personal Financial Advisors

The National Association of Personal Financial Advisors (NAPFA) is a leading professional association of Fee-Only financial advisors - highly trained professionals who are committed to working in the best interests of those they serve.
NAPFA members live by three important values:
To be the beacon for independent, objective financial advice for individuals and families.
To be the champion of financial services delivered in the public interest.
To be the standard bearer for the emerging profession of financial planning.
Our name reflects our mission to put family first. The value we place on family–both yours and ours–is evident in every interaction. Few teams have the national and industry recognition of Family Investment Center; even fewer successfully pair modern financial planning tools with timeless investment principles for your benefit.
What Kind Of People Work With Family Investment Center?
1. Over the years, we have found that our firm works most effectively with people who share some or all of the following characteristics:
A desire to live a more meaningful life.
A pledge to shift behavior if it furthers long term goals.
Realistic investment objectives and a willingness to communicate expectations.
Confidence in our advice and a commitment to ignoring financial noise.
Willingness to accept investment returns offered by the market, recognizing that there is no foolproof way to achieve above-average performance.
Recognition that we don't have all the answers, and that financial planning and investing – like life – is not an exact science.
2. What Services Does Family Investment Center Provide?
Financial Planning
Retirement Planning
Estate Planning Education & Will (and/or Trust) Facilitation
Tax Planning
Tax Preparation
Cash Management
Career Management
Business Planning
Insurance Review
Social Security Planning
Education Planning
Portfolio Analysis and Investment Implementation Services
Portfolio Analysis and Design
Implementation
Ongoing Evaluation and Revisions
All services include analysis and forecasting, professional evaluation and advice, specific recommendations, implementation support, a structure for making decisions, and accountability.
3. How Does Family Investment Center Charge For Your Services?​​​​​​​
We offer two distinct, Fee-Only® services to our clients:
Financial Planning Services
We calculate your annual fee based on family income, type of income, tax complexity and net worth. You pay the first half of your annual fee when you hire us and the second half approximately halfway through the first year of your engagement.
An open retainer agreement means you are free to call us or schedule a meeting at any time on any financial issue and there will be no additional charge for the extra meeting(s). The logic behind this arrangement is simple: each year you have to put your pen down on your checkbook and rehire us. If we have not provided value during the previous year, you can choose not to rehire us. And we really appreciate getting rehired!
We may refer you to outside vendors and/or product specialists to help you with the implementation of your planning needs. We accept no referral fees or compensation of any kind from these people and/or companies. Our referral is only based on our belief that they will be of assistance to you.
Portfolio Analysis and Investment Implementation Services
When we manage money for you directly, an asset management fee applies. This annual fee equates to 1% of assets under management, or less in some cases, depending on the size of the relationship and specific services provided. These fees are deducted on a quarterly basis and are calculated based on the market value of the portfolio at the end of the preceding quarter.
4. What Are Family Investment Center's Obligations To Me?
To serve as your fiduciary – treating your money with the same care and prudence that we would treat our own.
To have no allegiance to any company, product, or service beyond our belief in its ability to achieve your goals.
To treat your financial information in strict confidentiality.
To treat you with respect, professionalism, honesty, and to maintain a nonjudgmental attitude toward the goals and information you present to us.
To deliver important advice, even if it may create discomfort in the short-term.
We will uphold the highest standards of care in the industry by espousing and practicing: Objectivity, Fairness, Suitability, Full Disclosure, Confidentiality, Integrity, Honesty, Professionalism, Competence, and Regulatory Compliance.
Your unique plan will be created using only the tools in our toolbox that add value for your situation. Together, we will function as architect and builder of your plan of action.
Additionally, we will freely make available the wisdom we have acquired through years of experience as the opportunity arises.
5. What Will Family Investment Center Expect Of Me?
We expect you to be honest and forthcoming about your personal and professional goals, and about your current financial situation.
Financial planning is personal, so we will ask you to share with us data and issues that you may not share with anyone but your family.
Specifically, we expect you to share your personal financial data and financial history with us, and to deliver relevant documents upon request.
We believe that a terrific financial plan requires a commitment of time from you.
We believe that a team approach to financial planning is the most successful for our clients.
We expect you to keep us informed in a timely manner about important changes that will have a significant effect on your financial and personal life.
We always ask that you carefully review all communications and statements from Family Investment Center, Inc. immediately and promptly report any errors to us and/or ask for clarification about anything you do not understand.
We ask that you give us at least 24-hour notice for any cancellation or delay.
If at any time you find that we are speaking in terms you don't understand, we ask that you make us aware of it and request clarification.
We ask that if you are reluctant to follow our advice, and/or if you don't feel confident in our motives and advice, that you contact us immediately.
Because the key element in maximizing a financial plan is giving it a chance to work, you must be willing to allow it a reasonable amount of time to produce results. When an element of the plan needs to change, it is changed through the planning process.
Specialties
Comprehensive Financial Planning
Retirement Income Planning
Investment Management
College Education Planning
Tax Planning
Ideal Clients
Retirees and Near Retirees
Growing Families
Business Owners and Executives
Sudden Money Situations
Novice Investors
Working Together
In-Office Meetings
Virtual Meetings
Clearly Defined Fees
No Product Sales
Complimentary Initial Consultation
Professional Designations & Affiliations
Richard Salmen is a NAPFA-Registered Financial Advisor

The National Association of Personal Financial Advisors (NAPFA) is a leading professional association of Fee-Only financial advisors—highly trained professionals who are committed to working in the best interests of those they serve.

Richard Salmen is a CERTIFIED FINANCIAL PLANNER™ Professional - Click for Verification

CFP® professionals are held to strict ethical standards to ensure financial planning recommendations are in your best interest. What's more, a CFP® professional must acquire several years of experience related to delivering financial planning services to clients and pass the comprehensive CFP® Certification Exam before they can use the CFP® designation.

Richard Salmen is a CFA® charterholder

The CFA Program is the most respected and recognized investment management designation in the world with less than 200,000 charterholders globally.

This advisor has earned the Chartered Financial Analyst® designation (CFA® charter) by passing all three of the CFA exams and gaining relevant industry experience, demonstrating their mastery of the investment analysis and decision-making skills most needed in the global investment management profession.

Richard Salmen is a Certified Trust and Fiduciary Advisor (CTFA)

Certified Trust and Fiduciary Advisor (CTFA) is a professional designation offered by the American Bankers Association (ABA). This mark provides training and knowledge in taxes, investments, financial planning, trusts, and estates. The CTFA credential is appropriate for professionals who have a career in banking, broking, financial planning, taxation, or trust administration.

Richard Salmen is an Enrolled Agent (EA) with the IRS

An enrolled agent is a federally authorized tax practitioner empowered by the U.S. Department of the Treasury to represent taxpayers before the Internal Revenue Service. Enrolled agent status is the highest credential awarded by the IRS.

Richard Salmen is a Member of the XY Planning Network

The XY Planning Network is the leading organization of fee-only financial advisors who are focused on working with Generation X and Generation Y clients. Our mission is to connect consumers with best-in-class financial advisors who specialize in working with clients just like you.
Office Locations:
11253 Strang Line Road
Lenexa, KS 66215