Robert Maloney
MSFS, AEP®
Squam Lakes Financial Advisors, LLC
Chief Listener
Robert
Maloney
MSFS, AEP®
Squam Lakes Financial Advisors, LLC
Chief Listener
As a fee-only financial planner, my focus is to offer unbiased financial advice to help you achieve your retirement goals
- Robert Maloney, MSFS, AEP®
Fee-Only Financial Planner located in Holderness, NH and serving the Squam Lakes & Lakes Region, NH area.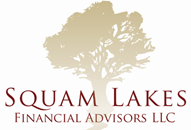 Robert E. Maloney is the Managing Member of Squam Lakes Financial Advisors, LLC, which he founded in 1982. Led by the needs of his clients, Bob developed the firm's expertise in comprehensive financial planning.
He has long been a proponent of fee-only financial planning and was a founding member in 1983 of the National Association of Personal Financial Advisors (NAPFA), the leading professional association of fee-only financial advisors. He served three years as president and director of the Northeast Mid-Atlantic Region of NAPFA and led a committee to develop NAPFA University for the continuing education of fee-only financial advisors and planners. In 2011, he received NAPFA's Robert J. Underwood Distinguished Service Award and in 2013 he was honored and recognized as one of the 30 Most Influential for meritorious service to NAPFA and the Fee-Only financial planning community.
Bob's client base includes women, retiring and retired couples, owners of closely held businesses & professors of higher education. They look to Bob and his team to help articulate personal goals and develop comprehensive "written" planning strategies for achieving those goals.
In the 14 years prior to founding his own business, Bob administered estates, trusts, and developed new business for bank trust departments as a Trust Officer. He was awarded the Master of Science Degree in Financial Services (MSFS) from the American College in Bryn Mawr, Pennsylvania, and had his undergraduate studies at Siena College in Loudonville, NY with BS Finance. Bob holds the Accredited Estate Planner (AEP) certification from the National Association of Estate Planing Councils, a leading organization of professional estate planners and affiliated estate planning councils focused on establishing and monitoring the highest professional and educational standards for the practice.
Recognized Among the Best Financial Advisors in The Country
Bob has been recognized as one of the best financial advisors in the country by both Money magazine and Worth magazine. Medical Economics also recognized Bob as one of the best financial planners in the country for doctors.
Financial writers have often sought Bob's expertise in areas of personal finance. He has been quoted in the Wall Street Journal, Investment Advisor, Medical Economics, Physicians Personal Advisory and Money Magazine. Bob was also featured in Financial Planner magazine for his work as a financial advisor to women.
Active In the Squam Lakes, NH Community
Bob is immediate past president and a former member of the Squam Lakes Chamber of Commerce and past president of the White Pond Watershed Association. He is an active member of the Town of Holderness, NH and serves a Chairman of the Zoning Board of Adjustments and is a member of the town Budget Committee and a long-time participant in the "Who Can Make the Best Apple Pie Contest" in Holderness, NH.
In 2012 Bob was named a director of Speare Memorial Hospital in Plymouth, NH and serves as Treasurer, Chairman of the Finance Committee and a member of the Long Range Planning Committee.
He is a member of the New Hampshire Estate Planning Council; past Chairman, President, and Director of the Connecticut Estate and Tax Planning Council; and a former President and Director of the Southern Connecticut Chapter of the International Association of Financial Planners (IAFP).
Bob is an avid hiker and fresh-water fisherman, and lives with his wife Bonnie in Holderness, NH.
Robert Maloney is a Member of the National Association of Personal Financial Advisors

The National Association of Personal Financial Advisors (NAPFA) is a leading professional association of Fee-Only financial advisors - highly trained professionals who are committed to working in the best interests of those they serve.
NAPFA members live by three important values:
To be the beacon for independent, objective financial advice for individuals and families.
To be the champion of financial services delivered in the public interest.
To be the standard bearer for the emerging profession of financial planning.
It is our goal to make sure our clients reach their goals. We believe in order to reach those goals we must have a good understanding of their situation. Not everyone's goal, or the ability to reach that goal, is the same. We found the best way to help the client is to simply listen. We rely on input from investment portfolio managers, CPA's or tax advisors, estate planning attorneys, insurance providers even counselors to make the right decision. We listen to everyone, but most importantly the client. Together we find out what is truly important and help them make the hard decisions.
Our clients know we are here to walk through the process and ensure all moving parts are addressed. By concentrating on only one isolated part risks overlooking the effect and impact on the other areas of the financial plan. With a comprehensive plan Long Term Spending, Investments, Retirement, Insurance, Income Tax and Estate planning are all reviewed. We may rely on the input from specialist in each field, but it is the responsibility of Squam Lakes Financial Advisors, LLC to ensure each decision is the right decision for the whole financial picture.
LONG TERM SPENDING PLAN
Squam Lakes Financial Advisors, LLC will analyze current living expenses versus current income and prepare 25-year projections for future anticipated living expenses, income taxes and all sources of income (e.g. compensation, investments, pensions etc.). This will be the guide for retirement and will provide a framework for decision making that will be updated as changing circumstances require.
INVESTMENT CHOICES
Investments are not simply about choosing the right stock. It is about determining the risk level appropriate to achieve the personal goals. We work with professional investment managers in developing an asset allocation model and investment policy statement for our clients while being conscious of the tax implications and with the family's goals in mind.
RETIREMENT PLANNING
The goal is to coordinate retirement goals, long term spending and the investment choices. We will also address issues such as: employment-related benefits, qualified plans, other tax deferral arrangements, social security, health care and long-term care issues. A client's stage in life and their goals can affect the type of investment, how that investment is titled and/or the rate in which you withdraw from that investment when the time arrives.
INSURANCE ANALYSIS
With clients' insurance professionals we review adequacy of types and amounts of coverage: property & casualty, health and major medical, excess liability, disability, life insurance and the need/desirability of long term care coverage. We want to ensure our clients and their families are protected when the unexpected happens.
INCOME TAX MINIMIZATION
This is the area where a competent accounting professional can work in tandem with Squam Lakes Financial Advisors, LLC on making appropriate recommendations for minimizing federal and state taxes. This includes consideration of tax avoidance or deferral strategies such as tax-free bonds, use of IRAs, qualified retirement plans and Alternative Minimum Tax planning. It is our job to make sure the decisions made are the best ones for the overall financial picture.
ESTATE PLANNING
Current wills, trusts, powers of attorney and related documents are reviewed. We provide recommendations for revisions or amendments and analyze beneficiary designations and allocation of assets by title. Consideration are given to both testamentary and lifetime gifting strategies consistent with personal goals and spending projections.
Fee-Only, Fiduciary, Independent:

Three Important Criteria to Consider When Choosing a Financial Advisor.
Specialties
Comprehensive Financial Planning
Retirement Income Planning
Tax Planning
Women in Transition
Ideal Clients
Retirees and Near Retirees
Business Owners and Executives
Sudden Money Situations
Working Together
In-Office Meetings
Virtual Meetings
Clearly Defined Fees
No Product Sales
Complimentary Initial Consultation
Professional Designations & Affiliations
Robert Maloney is a NAPFA-Registered Financial Advisor

The National Association of Personal Financial Advisors (NAPFA) is a leading professional association of Fee-Only financial advisors—highly trained professionals who are committed to working in the best interests of those they serve.

Robert Maloney is an Accredited Estate Planner® (AEP®)

Professional estate planners can obtain an accreditation that acknowledges their experience and specialization in estate planning. Awarded by the National Association of Estate Planners & Councils to recognized estate planning professionals who meet special requirements of education, experience, knowledge, professional reputation, and character.
Office Locations:
31 Coxboro Road
PO Box 730
Holderness, NH 03245