The Wealth Conservatory
Wealth Consultant
The Wealth Conservatory
Wealth Consultant
I love it when we're able to move a member's financial decisions from the seemingly difficult or stressful to the amazingly simple, by either reframing their objectives or by laying out the impacts of their most relevant alternatives.
- Steven Bell, CFP®, MBA
Fee-Only Planner with offices in New Hampshire, Missouri, and California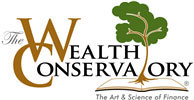 Steve Bell is a Livermore, CA fee-only financial advisor and member of the Wealth Conservatory team. The Conservatory provides comprehensive and objective financial planning to help clients organize, grow and protect their assets through life's transitions. As a fee-only, fiduciary, and independent financial advisor, Steve Bell is never paid a commission of any kind, and has a legal as well as moral obligation to provide unbiased and trustworthy financial advice.
Are you confident you are saving enough for retirement; or if you are already retired, that your money will sustain the lifestyle you currently enjoy? Do you wonder if there is something more you should do now to protect those you love in the event of your incapacity or death? Are you concerned that your financial advisor may not be putting your best interests ahead of his or hers? Well, you are not alone and we can help.

Steve Bell, CFP®, MBA is one of several Certified Financial Planner professionals at the Wealth Conservatory; an independent financial planning and wealth management advisory, where we work as a team to keep individuals and families on feasible and attractive paths to their goals; to include making sure they do not run out of money before running out of life and that the lifestyles of their loved ones will be protected, even in the event of incapacity or death.

We are Fee-only advisors and proud members of the National Association of Personal Financial Advisors. Visit our website at www.wealthconservatory.com to learn more about why working with Fee-only NAPFA Registered Financial Advisors, like Steve Bell, is so important. Then consider calling us at 1-800-472-1844 to schedule your no-cost, no obligation initial meeting, where we will listen to the reasons you are looking for a financial advisor and tell you how we can help.
Steven Bell is a Member of the National Association of Personal Financial Advisors

The National Association of Personal Financial Advisors (NAPFA) is a leading professional association of Fee-Only financial advisors - highly trained professionals who are committed to working in the best interests of those they serve.
NAPFA members live by three important values:
To be the beacon for independent, objective financial advice for individuals and families.
To be the champion of financial services delivered in the public interest.
To be the standard bearer for the emerging profession of financial planning.
The Art and Science of Finance
Whether one is managing finances (including but not limited to investments) at home or for an entity, there is a reasonable expectation that applicable principles and methodologies will be followed. These include acting within the law and adhering to regulations; controlling risks and expenses; performing due diligence over the purchase of financial and insurance products; avoiding conflicts of interest; monitoring progress and performance; and reporting to others. How many of us have the knowledge, skills, resources, and experience to meet this expectation?

The Wealth Conservatory educates and consults individuals and entities on excellence in stewarding finances for themselves, their families, trusts, foundations and charitable organizations. It is a weighty responsibility to be taken seriously, ethically, and competently. We are here to help.


Fee-Only, Fiduciary, Independent:

Three Important Criteria to Consider When Choosing a Financial Advisor.
Specialties
Comprehensive Financial Planning
Retirement Income Planning
Investment Management
College Education Planning
Tax Planning
Ideal Clients
Retirees and Near Retirees
Growing Families
Business Owners and Executives
Sudden Money Situations
Novice Investors
Working Together
In-Office Meetings
Virtual Meetings
Clearly Defined Fees
No Product Sales
Complimentary Initial Consultation
Professional Designations & Affiliations
Office Locations:
2300 First Street
#336K
Livermore, CA 94550

6701 Koll Center Parkway
Suite 250
Pleasanton, CA 94566

400 East Walnut Street
Springfield, MO 65806

29 School Street
Lebanon, NH 03766

264 South River
Bedford, NH 03110

18097 Harvest Ct
Plymouth, CA 95669