Meyer Capital Group
CEO & President
Meyer Capital Group
CEO & President
As a fiduciary financial planner, you can rest assured that I am always working in your best interest.
- Thomas C. Meyer, AIF®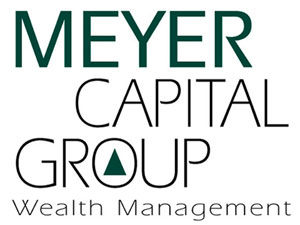 Thomas Meyer is a
fiduciary financial advisor in Marlton, NJ
. Meyer Capital Group specializes in comprehensive financial planning to help clients plan, grow and protect their assets through all stages of life. As a fiduciary, Thomas Meyer has a sworn and legal obligation to put the interests of the client first, to provide unbiased and trustworthy financial advice.
Thomas Meyer is Chief Executive Officer for Meyer Capital Group, a fee-only investment management and financial planning firm dedicated to helping their clients build wealth through a consistent, disciplined investment process. This firm, founded in 1963 by his grandfather, has been providing sound financial advice for over five decades.
Tom Meyer joined the firm in 1982 and began his career constructing investment portfolios and managing client assets. In 1987, he assumed the position of president and while continuing to focus on providing clients with outstanding customer service, he began preparing the company for change. Tom also had the foresight to see the potential growth of alternative investment strategies in the Investment Company Act of 1940 structure and how this could provide significant benefits to individual investors while reducing investment risk.
Tom has achieved the "5 Star Advisor" rating with the Paladin Registry. Paladin has developed a systematic process for measuring information that impacts the competence and ethics of financial advisors. Less than 10% of those that applied have been entered into the Registry. He has also received the coveted Dalbar award. This prestigious seal is the voice of our existing clients and is awarded to financial professionals who have exceeded national benchmarks in the areas of trust, client satisfaction, quality of advice and financial results. He had been voted in the past to the Barron's "Top 100 Independent Advisors" list and most recently Tom was voted as a "Premier Advisor" and awarded the "Customer Service Star" by NABCAP in the Philadelphia Business Journal, a "Five Star Professional" in Philadelphia Magazine and ranked # 11 in NJ for the Barron's 2014 "America's Top 1200 Advisors" survey of over 4000 advisors.
Tom has served on the board of directors for the South Jersey Chapter of Spina Bifida, Charles Schwab Advisor Network and on "The Dividend Growth Fund", a publicly traded mutual fund. He is currently serving on the board of directors for the Ronald McDonald House of Southern New Jersey.
Tom has been frequently quoted in print for the Dow Jones News Wire, Barron's, Investment News, and Financial Planning Magazine. Financial Advisor Magazine featured Tom as their cover story for March 2009 covering liquid, transparent alternative mutual funds. For six years he was an instrumental contributor for Comcast's top rated financial program "Money Matters Today" alongside their Emmy award winning host. He has also been a panelist on CNBC's "Power Lunch", "Squawk on the Street" and "On The Money" shows.
Tom is an Accredited Investment Fiduciary (AIF®) and holds the FINRA Series 66 License. He has dedicated his career to educating the public on the Markets and helping his clients obtain their investment objectives while offering the personal service larger firms lack.
Meyer Capital Group is a fee-only investment management and financial planning firm. Our mission is to understand each client's needs and objectives and then deliver superior customer service. We are strongly committed to helping you protect your wealth using a thorough and disciplined investment approach.
Our firm was founded in 1963 by Clarence Whipple. Now managed by his grandson Tom Meyer, Meyer Capital Group has been providing superior financial advice for five decades. Today, MCG has capabilities to provide state-of-the-art portfolio management and services, but is small enough to also provide personal, one-on-one service to our client which is unique among our peers.
During its early years, in addition to providing financial advice, MCG created and managed an equity mutual fund that ultimately became, through acquisition, the Vontobel US Value Fund.
Meyer Capital Group has grown from managing less than two million in assets to over six-hundred million today. We have been given the opportunity to increase our customer base due to the firms' spectrum of new services, investment options and approaches.
"Investment management is a relationship business. Meyer Capital Group collaborates with you to provide the best approach for managing your portfolio and securing other financial services. By joining the Meyer Capital Group family, we will help you to build a solid financial future." - Thomas C. Meyer
Fee-Only, Fiduciary, Independent:

Three Important Criteria to Consider When Choosing a Financial Advisor.
Specialties
Comprehensive Financial Planning
Retirement Income Planning
ETF and Indexing Management
Small Business Retirement Accounts
College Education Planning
ESG/Socially Responsible Products
Risk Management / Liquid Alternative Strategies
SMA (Separately Managed Accounts)
Ideal Clients
Retirees and Near Retirees
Young Families
Entrepreneurs & Business Owners
Medical Professionals
Sudden Money Situations
Recently Divorced and Widowed
Working Together
In-Office Meetings
Virtual Meetings
No-Cost Initial Consultation
Flat Rate & Hourly Planning
% of Assets Under Management
Professional Designations & Affiliations
Thomas C. Meyer is a NAPFA Associate Member

The National Association of Personal Financial Advisors (NAPFA) is the country's leading professional association of Fee-Only financial advisors—highly trained professionals who are committed to working in the best interests of those they serve.

Thomas C. Meyer is an Accredited Investment Fiduciary® (AIF)

Advisors who have earned the Accredited Investment Fiduciary designation are able to immediately show that they are interested in and working towards the best interests of their clients. They have gone through training, met the qualifications, and passed the exam allowing use of the AIF designation.

Meyer Capital Group is an Independent Registered Investment Advisor (RIA)

Independent Registered Investment Advisors (RIAs) are professional independent advisory firms that provide personalized financial advice to their clients, many of whom have complex financial needs. Because these advisors are independent, they are not tied to any particular family of funds or investment products. As fiduciaries, they are held to the highest standard of care – and are required to act in the best interests of their clients at all times. RIA is not a designation, credential, endorsement, membership organization, or award. A RIA is a professional advisory firm registered with the U.S. Securities and Exchange Commission (SEC) or state securities regulators.
Office Locations:
5 Greentree Center
525 Route 73 North Suite 312
Marlton, NJ 08053