Epic Financial
Financial Advisor
Epic Financial
Financial Advisor
A fee-only financial advisor helping you make the most of your money.
- Trace Tisler, CFP®
Fee-Only Financial Planner located in Hudson, OH and serving the entire northeast Ohio region and clients across the country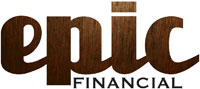 Hi, I'm Trace Tisler, CFP®
I've been a financial planner, financial advisor, investment advisor and high net-worth wealth management expert for the best part of two decades.
Despite being of the "middle-aged-white-male" presuasion, I feel I do my best work and enjoy working with the better 50+% of the population that are female. Generally that's reflected in the form of female: majority bread-winner, divorcee's and those that have loss their partner.
I started as a financial analyst at a nationally recognized, high net-worth wealth management firm in the North-East Ohio, Akron, OH area. At the age of 27 I was promoted to the Director of Wealth Management. As such, I managed more than 100 million dollars in client investments and oversaw their financial plans. I learned a lot about what "success" looks like to an individual/family.
I found that implemting a methodolgy of K.I.S.S. (keep it simple stupid), transparency and honesty more often than not leads to a roadmap towar financial success.
Nearly two decades later, as Founder, CEO and head honcho of Epic Financial. Trace meets with clients personally and handles the ins and outs, ups and downs of all client planning and implementation (he's the Certified Financial Planner). Can often be found nerding out over spreadsheets.
Can't be interrupted when: Radiolab is playing.
Favorite beer: Bells Two Hearted Ale
Best fly fishing spot: Frying Pan in CO
Beach or mountains? Mountains. In a camper.
He's NOT a suit-and-tie guy. An outdoorsman at heart with some SERIOUS hillbilly tendencies. If it's the weekend, you'll find him outside...yard-working, fishing, hunting, survivor-ling with his son Chet.
Trace Tisler is a Member of the National Association of Personal Financial Advisors

The National Association of Personal Financial Advisors (NAPFA) is a leading professional association of Fee-Only financial advisors - highly trained professionals who are committed to working in the best interests of those they serve.
NAPFA members live by three important values:
To be the beacon for independent, objective financial advice for individuals and families.
To be the champion of financial services delivered in the public interest.
To be the standard bearer for the emerging profession of financial planning.
Epic Financial, LLC is a fee only financial planning firm. We provide financial planning and investment management services to individuals, couples, and families.

Our clients are savvy. They know that in certain areas of life peace of mind can be worth more than the price you pay. And having someone to trust can pay a lifetime of dividends. Ultimately, all our clients want to do the best they can while moving toward their financial futures. Our guidance and help let them rest assured they are.

We do not earn sales commissions, referral fees, or kickbacks of any kind.

Focused on Financial Planning
Financial planning and investment management are often used interchangeably. But, selecting appropriate investments is only one part of financial success. We believe doing the right thing with your money is not exclusive to which investments you should use.

We provide comprehensive financial planning, which can include services such as: cash flow, retirement planning, debt management, estate planning, insurance planning, tax planning, mortgage analysis, career planning, and investment management.

Experienced
We've been providing financial advice for more than 15 years to clients from diverse backgrounds.

We know a lot, but the most important thing experience teaches, is that we can't know it all. We are dedicated to continually learning and building relationships with other professional experts so our clients get the best advice possible.

Credentialed – CFP®
The CFP® designation is the recognized standard of excellence for advisors providing competent and ethical personal financial planning. In order to obtain the CFP® designation an advisor must:
Possess a college degree
Complete CFP® specific course work
Have a minimum of 3 years of professional experience
Pass a comprehensive exam
Maintain continuing education credits
Adhere to strict ethics requirements
Fee-Only
We are Fee-only which means we do not earn commissions, referral fees, or kickbacks of any kind. These hidden under-the-table type payments breed conflict of interest between advisors and clients. The only compensation we receive for our services is directly from you. We never sell any kind of investment or insurance product.

Fiduciary
A big word with big meaning. Our clients deserve a financial advisor that is fully committed to doing what is in their best interest. Our status as registered investment advisor requires that we put your interest ahead of our own. Other investment brokers or insurance sales people are only required to provide "suitable" options.

In other words, we treat you like we'd treat mom and dad.

You probably wouldn't go to a doctor or lawyer that wasn't working in your best interest. Why would you choose a financial advisor differently? Rest assured we are working in your best interest, not just trying to sell you a product that earns them the largest commission.

We Work Virtually
We know how annoying it can be to take time off work or use vacation days for appointments. It's not always convenient and we know you'd rather use your vacation doing something fun. By providing our services virtually, you can receive advice in an efficient and convenient way.

We work with clients locally and across the country. Whether you're next door or across time zones we've got you covered.
Fee-Only, Fiduciary, Independent:

Three Important Criteria to Consider When Choosing a Financial Advisor.
Specialties
Comprehensive Financial Planning
Retirement Income Planning
Investment Management
Tax Planning
Estate Planning
Ideal Clients
Women Breadwinners
Women Financial Head of Households
Retirees and Near Retirees
High-Income Couples/Families
Business Owners
Working Together
In-Office Meetings
Virtual Meetings
Clearly Defined Fees
No Product Sales
Complimentary Initial Consultation
Professional Designations & Affiliations
Trace Tisler is a NAPFA-Registered Financial Advisor

The National Association of Personal Financial Advisors (NAPFA) is a leading professional association of Fee-Only financial advisors—highly trained professionals who are committed to working in the best interests of those they serve.

Trace Tisler is a CERTIFIED FINANCIAL PLANNER™ Professional - Click for Verification

CFP® professionals are held to strict ethical standards to ensure financial planning recommendations are in your best interest. What's more, a CFP® professional must acquire several years of experience related to delivering financial planning services to clients and pass the comprehensive CFP® Certification Exam before they can use the CFP® designation.

Trace Tisler is a Member of the XY Planning Network

The XY Planning Network is the leading organization of fee-only financial advisors who are focused on working with Generation X and Generation Y clients. Our mission is to connect consumers with best-in-class financial advisors who specialize in working with clients just like you.
Office Locations:
1780 Stoney Hill Dr. STE D3
Hudson, OH 44236