Wealth Transition Finance, A Member of Advisory Services Network, LLC
Financial Planner
Wealth Transition Finance, A Member of Advisory Services Network, LLC
Financial Planner
As a fee-only financial planner, my focus is to offer unbiased financial advice to help you achieve your life goals.
- Wendolyn Forbes, CFP®
Fee-Only financial planner located in Waynesville, NC, serving clients locally and across the country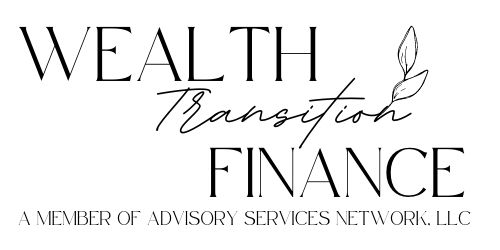 Wendolyn Forbes is a Waynesville, NC fee-only financial advisor serving clients locally and across the country. Wealth Transition Finance, A Member of Advisory Services Network, LLC provides comprehensive financial planning to help womenorganize, grow and protect their assets through life's transitions. As a fee-only, fiduciary, and independent financial advisor, Wendolyn Forbes is never paid a commission of any kind, and has a legal obligation to provide unbiased and trustworthy financial advice.
My name is Wendolyn Thurston Forbes. I am a CERTIFIED FINANCIAL PLANNER ™ practitioner.
At the core of my work in financial planning is my desire to help people experience the joy of aligning their values with their finances, of breaking through their fears and concerns about money so they feel confident about the pursuit of their financial goals.
As the oldest of three children in a single-parent family, I grew up observing how money was hard earned and hard to keep. Independence, determination, and grit are the building blocks of my being. On my own since the age of 17, I have experienced the anxiety and fear associated with credit card and student loan debt, of working 2 to 3 jobs while attending (and paying for) college as full-time student. I have also experienced blissful breakthroughs as I learned how to eliminate debt and effectively manage my habits around money to achieve my financial goals.
The values of my financial services practice include personalized service, timely communication, and the delivery of practical advice with transparency and integrity.
Over the years, I have collaborated with a variety of people and, I believe, helped them to achieve confidence, knowledge, and understanding about finance. I tailor my approach using financial planning principles that align with individual situations and circumstances.
I founded my financial services practice to help women manage wealth, navigate life transitions, and gain confidence about finance because I wanted to be the kind of woman that I didn't know back in my younger days- someone with whom the values of personalized service, timely communication, practical advice, transparency and integrity about personal finance were shared.
As a fee-only financial planner, my financial planning and investment management services are available for either a one-time or on-going cost. My practice provides clients with flexibility in their approach to financial planning.
Whether you are a do-it-yourself investor who wants to engage a professional for financial planning services or an investor who prefers to lean into the guidance of a professional for ongoing investment management, I invite you to connect with me so we may discover whether we collaborate and explore your financial situation together.
Wendolyn Forbes is a Member of the National Association of Personal Financial Advisors

The National Association of Personal Financial Advisors (NAPFA) is a leading professional association of Fee-Only financial advisors - highly trained professionals who are committed to working in the best interests of those they serve.
NAPFA members live by three important values:
To be the beacon for independent, objective financial advice for individuals and families.
To be the champion of financial services delivered in the public interest.
To be the standard bearer for the emerging profession of financial planning.
A financial services practice dedicated to helping women level-up their financial situation.
Wealth Transition Finance is a financial services practice providing personalized service, timely communication, and practical advice.
Financial planning is a collaborative process and the expectation is that, when we connect, we discover whether we enjoy each other's company, trust each other and can collaborate. We will discuss where you are in your process, the type of planning you are seeking, and whether the help you are seeking aligns with the services I offer.
Your initial consultation involves openness and time. You can expect me to ask questions about your life, career, family, financial situation, viewpoints on money and your expectations of a financial planner. You can also expect me to ask you to bring and share your financial data.
I provide personalized service, timely communication, and practical advice with transparency and integrity. Open, timely communication and thoughtful, intentional collaboration are essential to my process.
Fee-Only, Fiduciary, Independent:

Three Important Criteria to Consider When Choosing a Financial Advisor.
Specialties
Comprehensive Financial Planning
Investment Management
Retirement Income Planning
Cash Flow Planning
Ideal Clients
Women
Business Owners and Executives
Retirees and Near Retirees
Growing Families
Sudden Money Situations
Working Together
Virtual Meetings
Clearly Defined Fees
No Product Sales
Complimentary Initial Consultation
Professional Designations & Affiliations
Office Locations:
37 Church Street
Suite 11
Waynesville, NC 28786