Bill Knight
CFP®, AWMA®, PPC®
Legend Financial Advisors, Inc.®
Wealth Advisor
Bill
Knight
CFP®, AWMA®, PPC®
Legend Financial Advisors, Inc.®
Wealth Advisor
As a fee-only financial planner, my focus is to offer unbiased financial advice to help you achieve your life goals.
- Bill Knight, CFP®, AWMA®, PPC®
Fee-Only financial planner located in Pittsburgh, PA, serving clients locally and across the country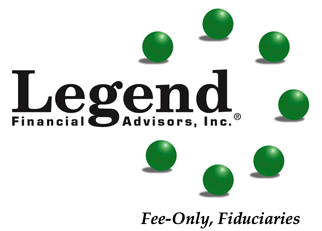 Bill Knight is a Pittsburgh, PA fee-only financial advisor serving clients locally and across the country. Legend Financial Advisors, Inc.® (Legend) provides personalized investment management and retirement planning to help pre- and post-retirees, individuals and families and business owners organize, grow and protect their assets through life's transitions. As a Fee-Only, fiduciary, and independent financial advisory firm, it has a legal obligation to provide unbiased and trustworthy financial advice to its clients. Legend serves clients nationwide.
Legend Financial Advisos Offers a Free Investment Second Opinion and Retirement Analysis
Bill T. Knight (Bill), CFP®, AWMA®, PPC® is a Wealth Advisor with Legend Financial Advisors, Inc.® (Legend) and EmergingWealth Investment Management, Inc.® (EmergingWealth). Bill had previously been an intern with Legend from 2007 to 2010 and worked at the firm full-time from 2011 to 2014. Bill returned to Legend in 2020 and has been an integral part of the Advisory Team.

As a Wealth Advisor at Legend, Bill assists all types of clients with their financial planning and investment needs. Bill's primary responsibilities include meeting with clients, performing investment research, implementing securities trades, creating financial planning analyses for clients and assisting in training and development of staff members. Bill is a member of the firm's Investment Committee. Bill is also experienced with the Bloomberg Investment Service, Morningstar Workstation, eMoney Advisor, Zacks Investment Research services as well as a number of other investment research and financial planning tools.

He graduated from the University of Pittsburgh with a Bachelor's of Science degree in Business Administration with a major in Finance. Bill is a native of Pittsburgh's North Hills.
ABOUT LEGEND FINANCIAL ADVISORS, INC.®
Legend Financial Advisors, Inc.® (Legend) is a Fee-Only, Fiduciary U.S. Securities and Exchange Commission Registered Investment Advisory Firm with Its Headquarters Located in Pittsburgh, Pennsylvania. Legend provides Personalized Wealth Management Services including Financial Planning and Investment Management Strategies to Individuals and Families.
Legend and its Advisors are Governed by the Fiduciary Standard of Law. As a Fiduciary, Legend Works in Their Clients' Best Interests.
LEGEND'S WEALTH MANAGEMENT ADVISORY SERVICES
1. Personal Investment Management and/or Investment Consulting
2. Personal Financial Planning (Available Only if Legend is Retained for Investment Services)
3. Retirement Plan Investment Management and/or Investment Consulting
4. Non-Profit Organization Investment Management and/or Investment Consulting
5. Business, Dental or Medical Practice Financial Planning
Fee-Only, Fiduciary, Independent:

Three Important Criteria to Consider When Choosing a Financial Advisor.
Specialties
Comprehensive Financial Planning
Retirement Income Planning
Investment Management
College Education Planning
Tax Planning
Ideal Clients
Retirees and Near Retirees
Growing Families
Business Owners and Executives
Sudden Money Situations
Novice Investors
Working Together
In-Office Meetings
Virtual Meetings
Clearly Defined Fees
No Product Sales
Complimentary Initial Consultation
Professional Designations & Affiliations
William Knight is a CERTIFIED FINANCIAL PLANNER™ Professional - Click for Verification

CFP® professionals are held to strict ethical standards to ensure financial planning recommendations are in your best interest. What's more, a CFP® professional must acquire several years of experience related to delivering financial planning services to clients and pass the comprehensive CFP® Certification Exam before they can use the CFP® designation.

William Knight is an Accredited Wealth Management Advisor® (AWMA®)

Individuals who hold the AWMA® designation have completed a course of study encompassing wealth strategies, equity-based compensation plans, tax reduction alternatives, and asset protection alternatives. Additionally, individuals must pass an end-of-course examination that tests their ability to synthesize complex concepts and apply theoretical concepts to real-life situations.

William Knight is a Professional Plan Consultant™

Advisors specifically interested in building their retirement plan advisory business pursue the Professional Plan Consultant® (PPC®) Designation. This training course teaches advisors a framework for managing successful and compliant 401(k) plans. Those who successfully earn their PPC® Designation demonstrate to clients and prospects their knowledge of ERISA requirements for employer-sponsored retirement plans and their ability to carry out plan services with a fiduciary standard of care.
Office Locations:
5700 Corporate Drive
Suite 350
Pittsburgh, PA 15237